"Precisely though the union of the Church, the world can see the presence of the Kingdom of God among us", – His Beatitude Sviatoslav
Monday, 26 November 2012, 10:25
On November 25th in Zagreb (Croatia) the Annual Meeting of the Bishops of the Eastern Catholic Churches of Europe ended. Hierarchs of 14 Eastern Catholic Churches of Europe gathered in the capital of Croatia in order to specifically examine the following topics: Second Vatican Council and Eastern Churches, UGCC Catechism, Codex of the canons of Eastern Churches, Programs marking the Year of Faith in Eastern Catholic Churches.
On November 23rd after the plenary session, a Pontifical Divine Liturgy was celebrated in the Cathedral of Sts. Cyrill and Methodius, located near the Three Saints Greek-Catholic Seminary.  The liturgy was led by His Beatitude Sviatoslav, with co-celebrants: Bishop Nikola Kekić, Acting Bishop of Križevci Eparchy, Archbishop Cyrill (Vasyl), Secretary of the Congregation for Eastern Churches, and archbishops and bishops of Eastern Catholic Churches.
In his sermon (listen audio) UGCC Head greeted all present and underlined the importance of the meeting of all bishops in the capital of the Croatian Republic, which is a visible sign of unity.  This union is important in the attempts to develop a joint action strategy regarding new evangelization.
A meeting of the bishops with the President of Croatia Ivo Yosypovych took place on November 24th. After the following plenary session there was a joint Divine Liturgy held in Bystrytsia, a Marian retreat place. After the Liturgy, His Beatitude Sviatoslav celebrated a Panakhyda [Requiem Service] for the victims of Holodomor [Great Famine] in Ukraine.  Joining in the common prayer was the Ukrainian Extraordinary Ambassador to Croatia, Oleksandr Levchenko.
UGCC Department of Information
PUBLICATIONS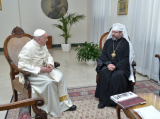 3 July at 10:00 AM, at Casa Santa Marta in the Vatican, Pope Francis met with His Beatitude Sviatoslav. The meeting was held at the request of the...
MEDIA