"Real Heroes Are Those Who Attain an Eternity, Giving Untimely", - The Head of the UGCC about Heavenly Hundred
Monday, 23 February 2015, 12:15
On 22 of February at Saint Sophia Church in Rome, His Beatitude Sviatoslav, Father and Head of the UGCC, led a Divine Liturgy on occasion of finishing the pilgrimage of the UGCC Synod of Bishops from Ukraine to the tombs of the supreme apostles.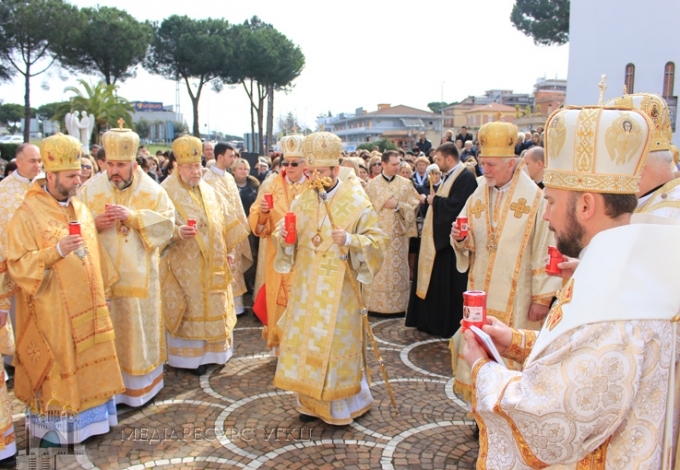 On the first anniversary day of the events at Maidan, Hierarchs together with Ukrainian migrants were praying for victims of Heavenly Hundred.
Appealing to those present at praying, the Head of the UGCC reminded that "today we are calling to mind the first anniversary of Revolution of Dignity and praying for heroes of Heavenly Hundred – those, whom do we call heroes and those who are not dying. Those heroes have preserved in their hearts something what cannot be killed - love to their Motherland and self-sacrifice for their fellows".
On the words of Major Archbishop Sviatoslav, the newest heroes of Ukraine are also a great example of how we should love our Motherland, because "during this tragic time all of us are called for being heroes at our own places because real heroes are those who attain an eternity, giving untimely".
After serving a Liturgy, a devoted went out of church processionally straight to the Heavenly Hundred Heroes' memorial cross, built on the wall nearby the cathedral. Here UGCC Hierarchs together with numerous Ukrainian community were praying Mass for the dead and lit memory candles for lost during the Revolution of Dignity. After a prayer the parochial youth led a memorial requiem and the youngest representatives of Rome Ukrainian community organized a flash mob, calling for peace.
Furthermore, ten Bishops from different eparchies and exarchates in Ukraine, as well as representatives of Rome ecclesiastical institutions, seminarians and monkhood of UGCC participated in a divine service. Tetiana Izhevska, Ambassador of Ukraine to the Holy See was also present at praying.
Press-service of "Saint Sophia" community
PUBLICATIONS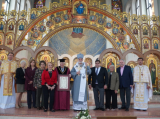 Archbishop Borys Gudziak of Philadelphia, President of UCU, conferred the award of honorary Doctor Honoris Causa of the Ukrainian Catholic...
MEDIA