"Someone desires to transfer the existing confrontation to religious grounds, inflaming inter-religious conflict..." Head of the Church
Thursday, 23 October 2014, 15:13
As is known, the Extraordinary General Assembly of the Synod of Bishops is the highest forum of the Catholic Church, to which as speakers are invited so-called brotherly delegations from the Orthodox and the Protestants. This year the Russian Orthodox Church was represented by Metropolitan Ilarion (Alfeiev), who, in my opinion, used abusive words in the presence of the Holy Father, to aggressively attack UGCC.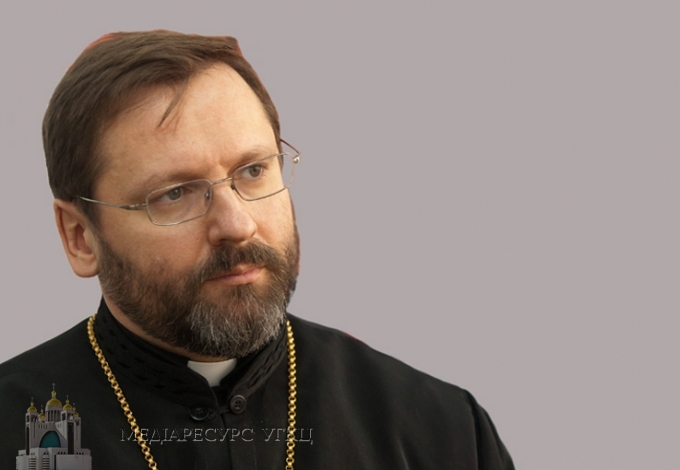 These were the comments His Beatitude Sviatoslav made at a press conference on October 23, 2014 in Lviv. (speech in Rome by Metropolitan Ilarion (Alfeiev), Head of the Public Relations Department of UOC -MP).
We remind our readers that in his speech, Bishop Ilarion not for the first time negated the right of the existence of UGCC. It was he who said that UGCC instigated the civil war, because it supported one side of the confrontation. Besides that, the representative of ROC accused UGCC that in their interaction with non-canonical Churches, it tears them from their Mother ROC, and thereby causes them to suffer.
"Taking all of this into account, it is obvious that someone wants to move the existing confrontation to religious grounds and thereby inflaming an inter-religious conflict. However, they will not succeed. Now UGCC, UOC, UOC-KP and the Protestants are united as never before. I expect that these attacks turned into a fiasco. Because the participants of the Synod expressed their extreme negativity to it," stated His Beatitude Sviatoslav.
UGCC Head said that after this accusatory presentation towards him [ His Beatitude Sviatoslav] he was approached by representative of all Catholic Bishop Conferences with expressions of solidarity. "The Metropolitan of the Universal Patriarchate in general was surprised that someone would allow to express himself in such a way towards a member of the Catholic Church in the presence of his family," he continued.
In concluding his thoughts, UGCC Prelate underlined that through such attacks Metropolitan Ilarion has harmed his own Church.
UGCC Department of Information
PUBLICATIONS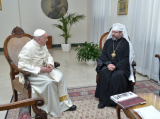 3 July at 10:00 AM, at Casa Santa Marta in the Vatican, Pope Francis met with His Beatitude Sviatoslav. The meeting was held at the request of the...
MEDIA