The 120th anniversary of the birth of Patriarch Josyf was marked in Barcelona
Wednesday, 24 October 2012, 10:15
A commemoration of the 120th anniversary of the birth of Patriarch Josyf Slipyi was held in the Church of Mother of God of Perpetual Help in the city of Barcelona (Spain) on October 21st.
After the completion of the Divine Liturgy, Ukrainian youth of Barcelona did a presentation on the life of the Patriarch through a series of photographs with a narrative.   Contemplations on the Testament of Josyf Slipyi and read excerpts of his letters from Siberia provided the audience with an opportunity to more deeply perceive the personality of His Beatitude.
The young community members also prepared posters with a painted portrait of the Patriarch and his life-long creed "Through thorns toward the stars."  The portrayal of eighteen thorns symbolized the eighteen years of his time in prison and in Siberia.
At the end, the guests were invited to the Church Hall to share refreshments and to visit a small exhibit portraying the life of Josyf Slipyi.
As a momentum, the participants received a holy card with an image of the Servant of God, Patriarch Josyf, also including a prayer for his beatification.
Source:  Roman Harbuz
PUBLICATIONS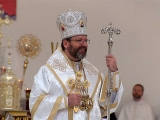 Can Easter be considered as a peculiar Christian holiday of victory and freedom of a human's will? Are we able through terrestrial examples...
MEDIA