The community of Lviv Spiritual Seminary of the Holy Spirit met with the General Secretary of the Community of Sant'Egidio, Mr. Adriano Roccucci
Friday, 01 November 2013, 09:05
The meeting came about due to Mr. Adriano Roccucci's visit to Lviv to attend the Conference "Pope Francis – the hope of our times". This became the focus of the presentation of Mr. Roccucci at the seminary. "Pope Francis justifies the expectations, placed on him immediately after his election to the Apostolic Chair -- the expectations of love and kindness from the Roman Archpriest regarding his people, his Church," emphasized Mr. Roccucci.
In addition, the General Secretary of the Community of Sant'Egidio shared his personal experience with the adherents of the community: "One cannot detach the care for the impoverished from the work of the parish or the whole Church. After all, this is the basis of the whole Gospel of Jesus Christ, the main idea of the Good News. Jesus Christ himself opened his teachings mainly to those most discarded and forsaken." He concluded his presentation with the words of Pope Francis, appealing to all present "not to fear tenderness and love – these are characteristics not of the weak, but of people of strong will."
At the end, Rev. Orest Demko, Vice-Rector of the Seminary, thanked the guest for his personal example of following the teachings of Christ by his deeds in the community. The seminarians presented Mr. Roccucci with gifts to remind him of his visit here.
Lviv Spiritual Seminary Media Center
PUBLICATIONS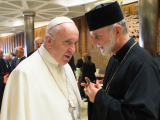 An unprecedented event took place in Rome on July 5-6. Desiring to demonstrate support for the Ukrainian Greek-Catholic Church at a time of...
MEDIA