The compilation of teachings of Pope Benedict XVI on matters of Environment will be presented in Ivano-Frankivsk
Thursday, 18 October 2012, 20:31
Ecological Bureau of the Ukrainian Greek Catholic Church will present the compilation of ecology oriented documents of Pope Benedict XVI, named "Responsibility for the Creation". The presentation will take place on the 18th of October in Ivano-Frankivsk at the address: Harbarska st. 22, at 4 pm.
Among those who were invited there are: Archbishop Thomas E. Gallikson, the Apostolic Nuncio in Ukraine, Liubomyr (Huzar), the Archbishop Emeritus Bishop Bohdan (Dziurakh), the Secretary of the Synod of Bishops, Bishop Vladimir (Viytyshyn), the Archbishop of Ivano-Frankivsk, Bishop Sofron (Mudryj), rector of the Ivano-Frankivsk Academy of Theology, as well as the representatives from governmental officials, state environmental agencies and environmental non-governmental organizations.
The publication contains documents (encyclicals, epistles, official speeches, etc.) that exemplify the position of the Catholic Church regarding the actual social and ecological issues of our time, and that uncover the issue of environmental mission of religious people and the role of Church in overcoming the current ecological crisis.
Among the major topics there are: Human Ecology, the relationship between the Environmental and Social problems of the present day, for instance, the relation between the destruction of the environment and the threat to human life, a violation of social justice, the dissemination of poverty, war etc. Particular attention is devoted to the issue of environmental responsibility of Christians and the mission of the Church regarding the salvation of the world created by God.
At 3 pm, at the above mentioned address on the occasion of the presentation of the announced book, the press conference will be held, during which the representatives of mass media will have the possibility to ask additional questions regarding this publication.
For any additional information call: 097 983 1680
The information service of the Ecological Bureau of the Ukrainian Greek Catholic Church.
PUBLICATIONS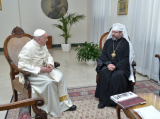 3 July at 10:00 AM, at Casa Santa Marta in the Vatican, Pope Francis met with His Beatitude Sviatoslav. The meeting was held at the request of the...
MEDIA