The Cornerstone of the second building was laid in Kyiv Seminary
Wednesday, 03 October 2012, 13:19
Bishop Joseph (Milian) has laid and blessed the cornerstone of educational and residential premises of the second building of the Evangelical Theological Seminary of Kyiv. The consecration was held on the 25th of September 2012 after the Pontifical Sacred and Divine Liturgy. As it was reported by the Information Centre of the Evangelical Theological Seminary of Kyiv, the high priest concelebrated with Rector Fr. Petro Zhuk, with Vice-Rector Fr. Andriy Chornenko and with the hieromonk confessor Yeronim Ivashkiv.
In his speech to the superiors, brothers-seminarians as well as to the workers of the Seminary, Bishop Joseph stressed that "this building is to serve the future education and training, however, first of all the spiritual life of the seminarians, who in the nearest future will go into the world to become the fishers of people. The main objective of the Presbyter, his main mission is to be the man of prayer and, through the example of his own life, to show all the faithful the path to God".
After the consecration, Fr. Petro expressed his gratitude to the bishop for his pastoral care over the seminary and for the ongoing assistance in a range of both- large and small- seminarian proceedings.
UGCC Department of Information
PUBLICATIONS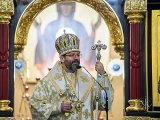 Head of the Ukrainian Greek Catholic Church brings multifaceted experience to project of evangelization.
MEDIA