"The desire of our predecessors of UGCC to see the light of theological science of the Universal Church was fulfilled" - the Head of the UGCC about Accreditation of the Ukrainian Catholic University
Friday, 22 May 2015, 14:40
Long-lived striving of our great predecessors - Metropolitan Andrey Sheptytskyi and Patriarch Joseph Slipyi to to see in our Church shining light of theological science of the Universal Church, which would not only shine throughout the Church and Ukraine but the whole world, was fulfilled. Solemnly declaring the Accreditation of the Theology Faculty of UCU of the Apostolic See, we are filling up our history, and with the eyes of the faith we can see our present and hopefully look into the future.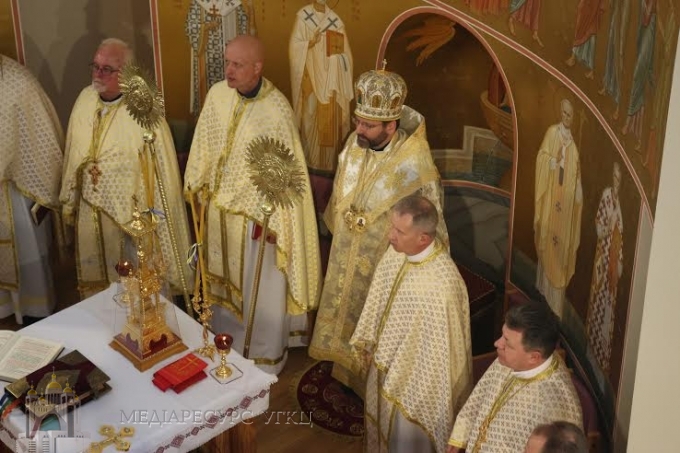 It was said by the Head of the UGCC His Beatitude Sviatoslav during a sermon at the Pontifical Divine Liturgy on 20 May, 2015 in the chapel of St. John the Divine in UCU.
As it is known, on the feast of St. John the Divine the Day of Philosophy and Theology Faculty is celebrated in UCU. But this year the celebration is happening in a special way, because, as previously reported, the theological programs of UCU received international accreditation from the Congregation for Catholic Education.
Reflecting on the mission and identity of UCU, the Head of the Church noted that he is striving for everyone who comes into the walls of this educational institution, could say such words, with which outlined His spiritual experience John the Evangelist: "I came, saw and believed".
The Head of the UGCC expressed His wish to university and its theological faculty really become the core of higher education and the great light of God, which should enlighten everyone.
According to the Preacher when to look into the past of Europe, in the Enlightenment era there was a separation between the light of the Christian faith and education. "We need to not only acquire quality education, but also to find the way of faith, that is the way of enlightenment". Fathers of the Church teach that each person was created in the image and likeness of God. Moreover, according to St. John, enlightening and becoming like God,man himself becomes light. After all, "no one lights a candle, then hide it under a dish. Candlestick is put high to enlighten all who are near".
It should be added after the Divine Liturgy celebration will be continued with a welcoming words, award certificates and diplomas to the participants of Ukrainian Olympiad and competition "Khutorivka's got talent - 6".
UGCC Department of Information
PUBLICATIONS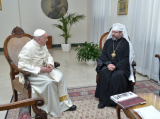 3 July at 10:00 AM, at Casa Santa Marta in the Vatican, Pope Francis met with His Beatitude Sviatoslav. The meeting was held at the request of the...
MEDIA