"The donations which you have made will be grouped into scholarships bearing the name of your parish," Bishop Borys (Gudziak)
Friday, 01 November 2013, 09:08
On October 27th, the Divine Liturgy in the Church of St. Volodymyr the Great was headed by Bishop Borys (Gudziak), Eparch of Saint Volodymyr the Great Eparchy for Ukrainians of the Byzantine Rite in France, with the Basilian Fathers as concelebrants. Bishop Borys visited Kyiv to attend the Fundraising Dinner for the support of the Ukrainian Catholic University (UCU), held on October 26th. In the Church, the bishop personally thanked the faithful for their generous donations to develop UCU.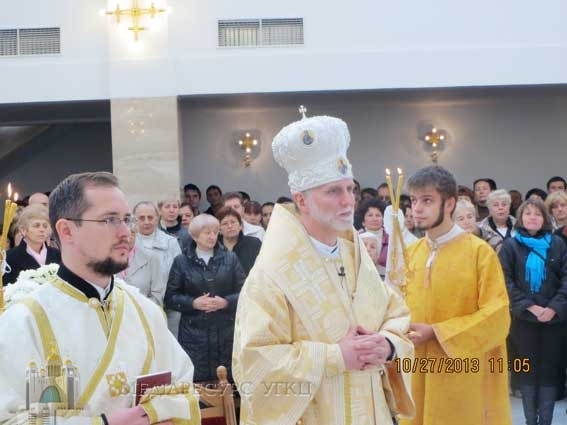 "Among all of our parishes and churches, numbering some 2,000 in Ukraine, the parish of Saint Volodymyr the Great of the Basilian Fathers, emerged as the most generous in the annual collection for UCU. In the name of UCU lecturers and students, I want to sincerely thank you. The donations which you have made will be grouped into scholarships bearing the name of your parish," Bishop Borys Gudziak informed the faithful.
In his sermon, the bishop shared deliberations on the Gospel reading, appealing to the faithful to contemplate the personality of Saint Peter: "He, as a village fisherman, who did not even come from Jerusalem, goes to Rome in order to preach about Christ to the pagans. He does not even consider how the listeners will receive him. Often we can block ourselves from the sermons of Christ by the words: "Who am I? What can I do? -- let the bishops, priests, UCU students go and preach the Word of God." However, the example of the apostle teaches us that we also can do this. Who is ready today to call someone who was not here and say, "It was good to be in church! It feels good to be in church, because there is a communal prayer, there is confession, there is the Eucharist" ?
Bishop Borys encouraged the faithful to loudly say, "It's good to be in church!"
And the faithful sincerely and happily picked up the words of the bishop.
After the Divine Liturgy, Rev. Rafayil Stefurak, the pastor, thanked the bishop for the Pontifical Blessing as well as for the words in the sermon that deeply entered the hearts of the faithful and even today, perhaps, will bring modest, but sincere fruits. Father Rafayil promised to pray for Bishop Borys and for his service beyond our Ukraine. Bishop Borys (Gudziak) thanked for the hospitable reception he was accorded in the parish of Saint Volodymyr the Great in Kyiv.
Reported by Rev. Roman Shupianyi
PUBLICATIONS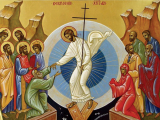 Most Reverend Archbishops and Bishops,Very Reverend and Reverend Fathers,Venerable Brothers and Sisters in Monastic and Religious Life,...
MEDIA