The Eparchy of St. Josaphat in Parma (USA) held a retreat for the clergy
Friday, 31 October 2014, 00:41
The clergy of the Ukrainian Catholic Eparchy of St. Josaphat in Parma held their annual retreat October 21-24, 2014 at the Bethany Center of the Roman Catholic Diocese of St. Petersburg in Lutz, Florida (USA).
Father Michael Cooper, SJ, Professor at Saint Leo University (Saint Leo, Florida), was the retreat master this year. In his spiritual talks, Fr. Michael stressed the importance for Christians, following the example of Christ, to accept their neighbors the way they are without passing judgments about anyone, but rather trying to be the oil for the wounds of the ones in need of healing.
Special attention was given to the ability to forgive his neighbor with the entirety of heart: Fr. Michael gave an example of a Jewish man at one of the concentration camps in Europe during the World War II, the entire family of whom was shot in front of his eyes, namely the ability of this man, with the help of God's grace, to forgive the Nazis these atrocities right after the crimes were committed. The retreat master equally stressed the importance for Christians not to poison their souls with sinful acts, but strive to be the bearers of the true joy and peace that come from the risen Lord.
In addition to the eparchial priests, the retreat was attended by the current Apostolic Administrator of the eparchy, Bishop John Bura as well as the newly elected ordinary of the eparchy, Bishop-Elect Bohdan Danylo. At the end of the retreat, the eparchy's Protosyncellus, mitered archpriest archimandrite George Appleyard thanked Bishop John, on behalf of the clergy, for his zealous five-year work in the eparchy and wished the hierarch God's abundant blessings in his continuing episcopal service. Fr. George also congratulated Bishop-Elect Bohdan on the occasion of his election as the eparchy's ordinary and wished him all of God's graces in his new ministry in the Church.
Afterwards Bishop John addressed the clergy with a few words and anointed all the retreat's participants with myrrh.
Department of Information of the UGCC
PUBLICATIONS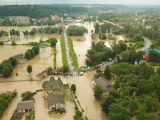 Your Graces and Excellencies, Very Reverend and Reverend Fathers, Venerable Brothers and Sisters in monastic and religious...
MEDIA