The first pilgrims from the Ternopil region came to worship the relics of Saint Clement in Yalta
Thursday, 13 September 2012, 19:23
Recently, the first pilgrims from the Ternopil region came to the relics of the priest and martyr Saint Clement- Pope of Rome, which are located in the temple of the Holy Trinity in Yalta. The pilgrimage was led by Fr. Vasyl Brona, who served the Divine Liturgy.
Let us recall, that on the 22nd of July His Beatitude Sviatoslav in concelebration with Bishop Ihor (Voznyak), who is the Archbishop and the Metropolitan Bishop of Lviv, Bishop Volodymyr (Viytyshyn), who is the Archbishop and the Metropolitan Bishop of Ivano-Frankivsk, Bishop Mykola (Simkaylo), who is the Bishop of the Kolomyia – Chernivtsi Eparchy, Bishop Vasyl (Ivasyuk), who is the Exarch of Odessa and Crimea, put the relics for the public veneration.
In a sermon (listen), the Head of the UGCC drew a symbolic parallel between the mission of St. Clement of Rome and the one that is performed by the UGCC. "The Ukrainian Greek Catholic Church, - he said, - has a mission that we do recognize in the figure of Pope Clement. First of all, we should preach together only that Christianity which was accepted by our forefathers in the waters of the Dnieper. This Church in Kyiv, about which we hear and speak so often, was the daughter of undivided Christianity; and this is why she has been honoring the Pope Clement so much up until now. And just as he was declared that there is just one God in three Persons, the same mission today is undertaken by our church. "
It should be noted that the church, in which the relics are stored, was established last year owing to the sacrifice made by Petro and Oksana Tokachiv.
Who was the Saint Clement of Rome? justyn-studyt.blogspot.com
Photo report: ugcc.tv/ua/media/54621.html
UGCC Department of Information
PUBLICATIONS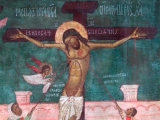 "Open to me the doors of repentance, O Giver of Life. As we worship in Your temple this morning, teach us how to purify the temple of our...
MEDIA