The fourth English-language virtual meeting brought together the youth of Ukraine and Canada
Monday, 29 November 2021, 15:06
On Saturday, November 27, the fourth English-language virtual meeting "Hail Mary" took place organized for instructors of the ESL.Ukraine Youth Ministry, Sambir Courses for Christian Animators (CCA), and the youth of the Eparchy of Saskatoon (Canada). Special guest of honor was: Most Reverend Bryan Bayda, Eparch of Saskatoon and Apostolic Administrator of the Eparchy of Torоnoto. Young people from different parts of Ukraine and Saskatchewan took part in the virtual event. The teleconference was organized on the initiative of the St. Sophia Religious Association of Ukrainian Catholics in the USA, in cooperation with the Youth Ministry of the Eparchy of Saskatoon and the Sambir CCA.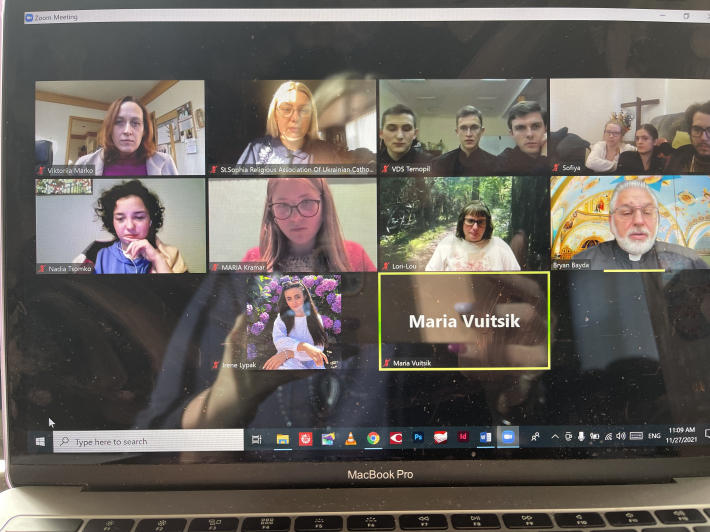 The purpose of the telethon was to look at the Blessed Virgin Mary; to share thoughts on Her motherhood; to build bridges for further cooperation, and above all – prepare for meeting with the Newborn Christ. Moreover, the organizers enhanced the language practice as the event was conducted in English. Participants had a unique opportunity to listen to the retreat conducted by Bishop Bryan Bayda, who spoke about the 'Hail Mary' prayer. "The Lord is with you: what does it mean to be with someone? What does it mean to live for someone? Being "present with" and being "present to"? We are called to be present WITH people and TO them, just like the Blessed Virgin Mary is present to God and to us," emphasized Bishop Bryan.
This year, Ukrainian-speaking readers received the Ukrainian translation of Carl Anderson and Msgr. Eduardo Chavez's book Our Lady of Guadalupe: Mother of the Civilization of Love. Iryna Ivankovych, President of St. Sophia Association, spoke about the work on the translation and her closer personal journey to the events of 490 years ago.
The groups participating in the teleconference prepared thematic presentations about apparitions of the Blessed Virgin Mary. For example, the Ukrainian team told about the events in Lourdes, where in 1858 the Blessed Virgin Mary, known as The Immaculate Conception, appeared to 14-year-old Bernadette Soubirous. Saskatoon youth spoke of the little-known apparitions of the Virgin Mary in the French town of Laus, Our Lady of Laus (French: Notre-Dame du Laus) or Refuge of Sinners denotes Marian apparitions that took place between 1664 and 1718 in Saint-Étienne-le-Laus, France, to Benoîte Rencurel, a young shepherdess. The apparitions were approved by the Holy See on May 5, 2008. Pope Pius IX granted a Canonical Coronation to her marble image on May 23, 1855.
The gathering was highlighted with the Rosary prayer led by Bishop Bryan.
St. Sophia Press Bureau
PUBLICATIONS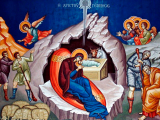 Most Reverend Archbishops and Metropolitans,God-loving Bishops, Very Reverend Clergy, Venerable Monastics,Dearly Beloved Brothers and...
MEDIA