The Head of the UGCC called Ukrainians to visit the crypt where the Metropolitan Sheptytskyi rests
Saturday, 01 November 2014, 14:13
The Father and Head of the Ukrainian Greek Catholic Church His Beatitude Sviatoslav (Shevchuk) addressed the Ukrainian people, each faithful Christian soul to come to St. George's Cathedral in Lviv and visit the crypt where Metropolitan Sheptytskyi rests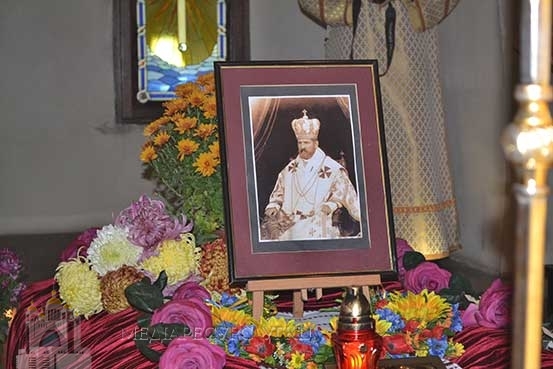 "Stay with Him. Enjoy this peace, which we are so lack of today"- called the Hierarch during the Divine Liturgy on 1 November at the Cathedral of St. George on the 70th anniversary of the Metropolitan's death.
Let's recall that on the day of departure to eternity the Year of Metropolitan Andrey Sheptitskyi solemnly began.
The Archbishop noted that during this year our church is willing to do a lot to make a modern Ukrainian newly discover for himself the personality of Metropolitan Andrey.
The Head of the Church individually addressed to bishops, priests, monks and nuns: "Let's make Metropolitan Sheptytskiy open to modern Ukrainian through our prayers, through our solemn academy, publications and conferences. Let's newly discover the figure of the one, who is known as the giant of saint George's Mountain"- He called the clergy.
Also His Beatitude called Ukrainians during the Year of honoring to read Metropolitan Andrey's letter, written during the Second World War, - "How to build a native house". "We find there extraordinary wisdom and life-giving words to understand how should we currently build, protect, rebuild and develop our free and independent Ukraine", - believes the High Priest.
Besides, he asked for that year especially pray for the Servant of God Metropolitan Andrey Sheptytskyi: every day at least once "Our Father" and "Hail Mary" to make "the treasure of holiness, which rests in the person of the servant of God Metropolitan Andrey shine in its beauty, fullness and truth to the whole Church and the whole world".
"Today we solemnly recognize the servant of God Metropolitan Andrey our great pastor and teacher. And ask him: Bishop Andrey, You that stand now before the throne of God, pray for Ukraine, pray for our nation, pray for the whole Resurrected Church to God's peace, through which You were blessed by your people, be the gift that you will beg from Almighty for our people",- said the Head of the UGCC.
UGCC Department of Information
MEDIA