The Head of the UGCC consecrated a library in Kyiv Spiritual Seminary
Wednesday, 11 May 2016, 09:36
On the 10th of May, the Father and Head of the UGCC His Beatitude Sviatoslav consecrated a library in Kyiv Spiritual Seminary, Knyazhychi, near Kyiv. The Divine Liturgy celebrated: bishop Ken (Novakivsky), Eparch of Westminster, bishop Bohdan (Danylo), Eparch of Parma and bishop Stepan (Menyok), Exarch of Donetsk Exarchate. Rectors of the UGCC spiritual seminaries who are participating in the session of Patriarchal Commission on Clergy co-served them.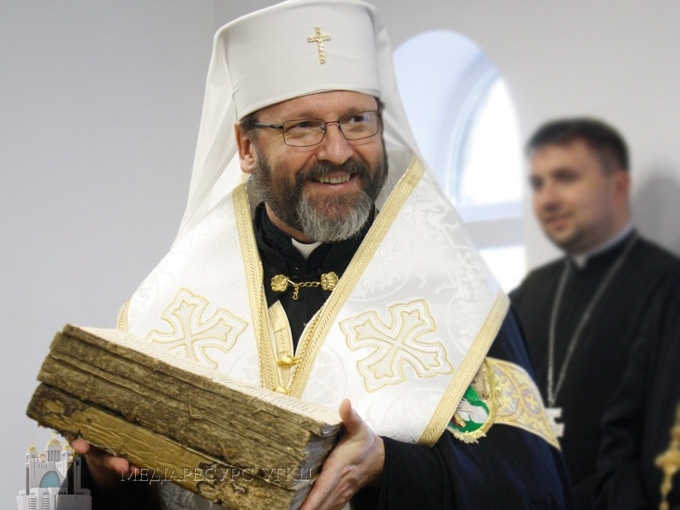 The Head of the UGCC appealed to the seminary community with such words: "these days we are reflecting on mystery of Christ meeting apostle Thomas. Christ comes down to the level of apostle's possibility of comprehending the mystery of resurrection, showing His wounds to him. This form of meeting shows a role and place of mystery of this small seminary here, in Knyazhychi".
As he believes, the UGCC has suffered a lot, but after all it was brought to life, thus it is a part of Christ's resurrected Body, having its wounds that show everybody the power of victory of Christ's resurrection over everything that can oppose Church: "The wound we touch and what shows us strength is exactly this seminary because its presence here demonstrates we are not "aliens" on these territories. In fact, a spiritual seminary did exist on this territory but it was forcibly liquidated and then brought to life again. Every time I stay here, I feel the same as Thomas did when he was touching wounds of Christ. Whoever lacks a belief in victory, let touch the history and reality of our seminary".
The Head of the UGCC thinks that a library is important in the life of seminary as there is no deep valuable studying without it. "The library has to be a cell where students can find sources of wisdom of Christ's Church. I am congratulating our community on this occasion", added he. Then he addressed to the Exarch of Donetsk: "This is your seminary as well because many seminarians from East Ukraine are studying here. It is inter-exarchal and inter-eparchial seminary, so you, Your Excellency are its co-mentor".
The Head of the Church also presented newly consecrated library manuscripts: Psalms and Book of Wisdom – parts of Bible, published in 1871 in Przemyśl, works of Saint Basil the Great from the library of Metropolitan Andrey in Dobromyl monastery, Pochaiv Menaion and Bogoglasnik, published in 1825 in Pochaiv. "Let them serve you as an opportunity to explore the roots and get an access to the origin. May light always shine in this library and somebody always study in here", added His Beatitude Sviatoslav.
The UGCC Department of Information
PUBLICATIONS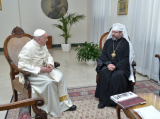 3 July at 10:00 AM, at Casa Santa Marta in the Vatican, Pope Francis met with His Beatitude Sviatoslav. The meeting was held at the request of the...
MEDIA