The Head of the UGCC: Don't hurry to leave your country!
Thursday, 22 February 2018, 20:19
I am encouraging our listeners not to trust their dreams that it is easy to find a fair salary somewhere beyond Ukraine. The life isn't always greener on the other side. I think we need to build a just State in Ukraine ... Such an opinion was expressed by the Father and the Head of the Ukrainian Greek Catholic Church, His Beatitude Sviatoslav, on February 17, 2018, on the theme of social justice during the interactive program "Open Church" on "Live TV."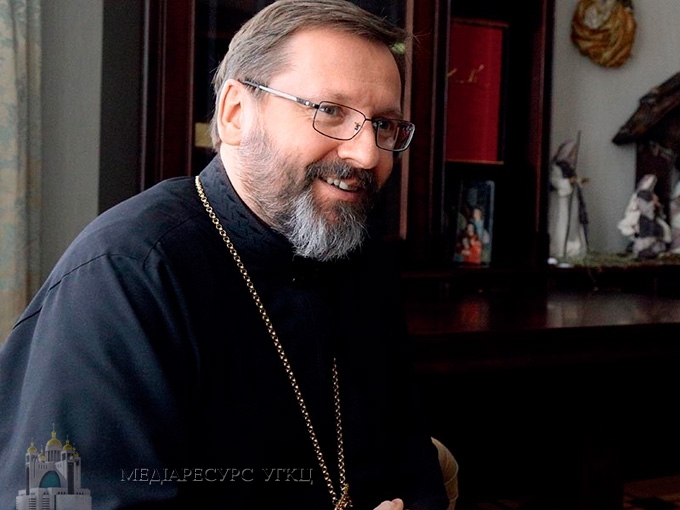 According to the Head of the UGCC, when a person feels that her talents, gifts, labor are not properly appreciated and she has no ability to realize her potential, she has a great temptation to leave this country.
"Low wages are one of the reasons for emigration, although not the only one ..." noted His Beatitude Sviatoslav, adding that today many of those who succumbed to temptation and went abroad, did not always find a fair salary there as well.
"Why? Many countries close their eyes on the work of emigrants by exploiting them and giving them a low salary, for which, for example, an Italian in Italy or a German in Germany would never have worked," said the guest of the studio.
The Head of the UGCC noted that our Church is trying not only to speak about social justice in Ukraine, but also to be the voice of those who were forced to move abroad. "Our Church also protects the rights of our emigrants, even illegal ones. We do this in order to take care of their dignity, so that they could fight for fair wages for themselves there, too," he said.
The Head of the Church stresses that we need to ensure that work in Ukraine is properly appreciated. "It is necessary to respect and support," believes His Beatitude Svyatoslav, "a private initiative, middle-sized business. And then - I'm optimistic - we can create necessary conditions so that highly skilled workers who feel able to develop their country, could do it."
"Do not rush to leave your country. Do not think that somewhere else, someone else is prepared to respect your work properly. We must create a just State and society in our Homeland," called the Head of the UGCC.
The UGCC Department for Information
MEDIA