The Head of the UGCC has passed Pro-Cathedral Church of the Intercession of Our Most Holy Lady in Sambir the relics of a blessed Josaphat Kotsylovsky
Monday, 27 April 2015, 11:02
On 26 of April, on Myrrhbearers Sunday, bishops of the Permanent Synod of UGCC with the head of His Beatitude Sviatoslav celebrated the Hierarchical Divine Liturgy in UGCC Pro-Cathedral Church of the Intercession of Our Most Holy Lady in Sambir. During the Little Entrance His Beatitude Sviatoslav exhibited for a public honouring the relics of a blessed Josaphat Kotsylovsky, which will remain in this church since now.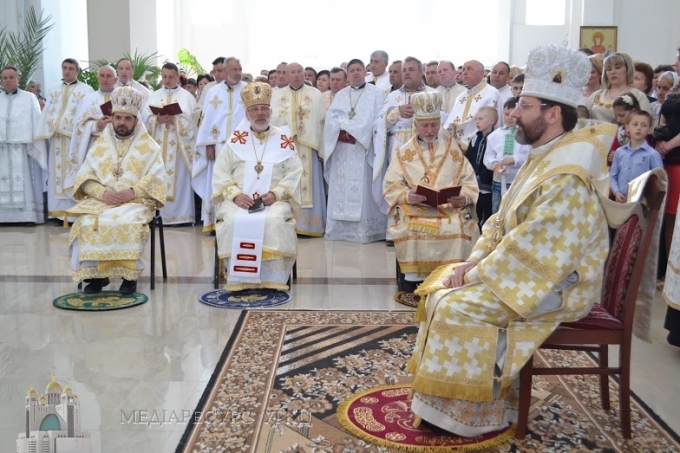 During the homily bishop Bohdan (Dzyurakh), the Secretary of the Synod of Bishops of UGCC, mentioned that in a posture of women-myrrhbearers we find an example of self-devotedness, sacrifice, love and servicing.
"Through them we are paying our respect to every woman who is an adherent of the myrrhbearers, holding this noble position of a real Christ's followers. Because of this, in my mind has appeared an image of one old lady from Kyiv, who finding out Berkut beating severely students in Kyiv city centre, got up early morning and cooked potato and meat for them. In my memory are arising women from Knyazhychi, village not far from Kyiv. We met them accidentally, when on 8th of March in 2013 they came to a Maidan public meeting for the first time. I remember our girls, handling sandwiches and tea day and night to everybody who was at the barricades. I remember nurses, who were dragging out wounded heroes from under sniper's bullets", - told bishop Bohdan.
However, from preacher's words the greatest example was given us from God in the person of a Virgin Mary, who was the closest to Jesus and appeared to be a sign of a salvation and victory upon evil for all human beings.
Bishop Bohdan reminded that exactly this day, 29 years ago, occurred a disaster at Chernobyl Nuclear Power Plant: "it seemed to be the end; there was no hope for salvation. But God didn't leave His people in the darkness of a Good Friday. He sent us sign of hope, awaking faith in victory. Isn't this remarkable that today, together with a Father and Head of the UGCC we are on the territory of Sambir and Drohobych eparchy, where, actually, has started the spiritual renewal of a pressed with Chernobyl disaster people".
Exactly here, in Grushiv village, just after Chernobyl, Blessed Virgin Mary, a Suffering Mother appeared, being clothed in dark chasubles of grief. The preacher called for praying to Mary with an implicit trust, learning from Her and from women-myrrhbearers to serve one another and return home as "an evangelists of hope, the evangelists of life and resurrection".
At the end of the Liturgy His Beatitude Sviatoslav offered that day to commemorate everyone who gave us faith of our parents (mothers and grandmothers).he also greeted parochial youth: "Especially, we were praying for you this day: for your lives and fortunes. May God bless you all His graces. Above all, may He preserve your life. For you are the future of our Church and our country".
The Head of the UGCC also pointed out that a bright example for imitation for our youth is a blessed martyr Josaphat Kotsylovsky because "relics of a saint is always a source of a divine grace and Holy Spirit that helps us to be a witnesses of Christ's faith the same how it was testified by this saint bishop".
The Head of the Church thanked faithful of UOC of the Kyiv Patriarchy who came for a Mass. Appealing to them, he was calling for a unity and love to one another, because "on our mutual love and unity depends the power of our people".
After this, His Beatitude Sviatoslav sanctified a corner stone for building a new Church of a blessed Josaphat Kotsylovsky and Grygoriy Lakota in Sambir.
UGCC Department of Information
PUBLICATIONS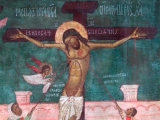 "Open to me the doors of repentance, O Giver of Life. As we worship in Your temple this morning, teach us how to purify the temple of our...
MEDIA