The Head of the UGCC in Czech Republic: "To conquer an enemy is ought to be spiritually and morally stronger than he is"
Monday, 08 June 2015, 14:21
These days, when we, Ukrainians are living in a war time, God's word about a love to our enemies seems to be hard for us. How can we love those who kill us? However, God's word expands horizons of a human instinct to a self-defense. God tells to conquer an enemy is ought to be spiritually and morally stronger than he is.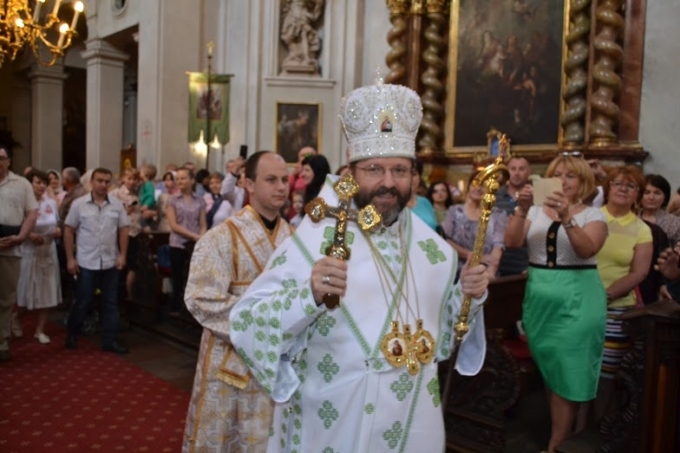 The Head and Father of the UGCC, His Beatitude Sviatoslav accented it in his homily at St. Clement Cathedral, Prague (Czech Republic) on 6th of June.
We remind that these days (4-7 of June) in Czech Republic, is being held the regular annual Meeting of the Eastern Catholic Bishops of Europe under the aegis of Council of Bishops' Conferences of Europe.
A preacher stressed, we as a sinners, are not the enemies of God, who must be destroyed, but we are daughters and sons, who need to be saved. The same as God, we must observe our enemies with Christian eyes as those who need to be prayed for and being prevented from a sin.
"In Christian history of Kyivan Rus' we have a unique example of gaining victory over evil forces and weapon with a might of love, - continued he. – This year we are celebrating a millennium since a day of martyr death of the first saints of Kyivan Rus' – passion bearers Boris and Gleb. They are warriors, who were protecting their Motherland, conquered an enemy with an imitation of Christ". That is why they are considered to be passion bearers. For how Christ had died for the sinners, the same way they gave out their lives for their brother, who was killing.
The Head of the UGCC called for an ardent praying to God so that He "saves us from a sin and death with a might of His love". And the most, according to him, it is needed to pray to God for saving us from hatred, even to our enemies. Here, His Beatitude Sviatoslav added that in UGCC exists, nearly a year, a spiritual practice, introduced by the Synod of Bishops. With this practice faithful ones are praying a special intension every day. "Every Tuesday we are praying for those who kill us. This way we testify that we are Christian nation and children of God", - finished he.
The UGCC Department of Information
PUBLICATIONS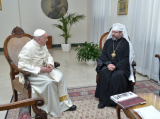 3 July at 10:00 AM, at Casa Santa Marta in the Vatican, Pope Francis met with His Beatitude Sviatoslav. The meeting was held at the request of the...
MEDIA