The Head of the UGCC in Vasylkiv: "An Event of Circumcision – a prototype of mystery of baptism, a door to the fountain of Holy Spirit's grace"
Friday, 15 January 2016, 17:22
January 14th we celebrate three events in one day. First of all, today is the 8th day after the birth of Jesus. And according to the Law of Moses every Jewish boy got his name on the 8th day after his birthday, after a rite of circumcision. Thus, eight-day Jesus is being circumcised and gets a name we know now.
It was said by the Father and Head of the UGCC His Beatitude Sviatoslav during his homily on 14th of January at the parish of Saint George, Great-martyr in Vasylkiv near Kyiv.
Hence, according to the preacher's words, in a dream an angel announced to Saint Joseph a name of a newborn Baby before his birth. The Scriptures says about this name "there is no any other name under heaven given to the human race by which we are to be saved, like the name of Jesus".
The second event – the memory of St. Basil the Great, the Father and Teacher of Church, Archbishop of Caesarea of Cappadocia, who has passed this day. And the third is the beginning of a new year according to Gregorian calendar.
"Being people, we differentiate past, present and future times. A person feels their life is a flowing river of constant changes that they are ruling upon. What is more, they are slaves of that times which change each other. That is why a person is seeking what is eternal and doesn't end. The person is seeking God's time", proceeded he.
Scriptures says there is no three times with God. God is everlasting and above time. "His present time is eternal. So a person wants to step from human's changeable time into God's eternal "now". In Old Testament God gave this crossing bridge – a Covenant, made firstly with Abraham, when Isaac was eight years old. The sign of that Covenant was a body circumcision. This bridge was only a presage before greater and more perfect", - said the Head of the UGCC.
We read from Apostles that Jesus is personally that moment when a person gets this opportunity to step into the absoluteness of time. Apostle Paul says in Him rests the whole absoluteness of deity. "Today Holy Sacraments are the moment of entering God's space, the grace of Holy Spirit, because they fill us with the same completeness that Jesus has brought in His body. A circumcision is a presage to all others fountains of Holy Spirit's grace. The one who has been baptized and receives Holy Sacraments, here on Earth lives an eternal life. This is what God wants to tell us, the invitation He once gave Abraham we can experience completely today", - added he.
The figure of St. Basil is an example of a constant renewal. "We always try to destroy all sicknesses, evil, pain and sufferings in a past year. That novelty does not come with changing dates in calendar but comes with our entering the God's time. Saint Basil is an example of a constant renewal of Church because he was a reformer of theology, Liturgy and monastic life. His teaching is a breath of a fresh air in our pursuit, meditations", stressed the Head of Church.
With the assurance of the preacher, in Vasylkiv people of Kyivan Rus' saw a restored life of St. Volodymyr the Great, Prince of Rus', equal to the apostles. This city was built as a South stronghold that had to defend Kyiv from South. St. Volodymyr lived here with his big family but had to go over a family life again, when he became a Christian. And he did it and gave the city his new baptizing name in honour of Basil the Great.
"Our community starts a new year in this new small church. Just five years ago we were celebrating a Divine Liturgy in the office of city Palace of Culture. Along this time we have realized that with a power of Holy Spirit we can do something new and better. You start a new year in a new church which is a hope that in the nearest future here a new temple will rise", - said His Beatitude Sviatoslav.
The UGCC Department of Information
PUBLICATIONS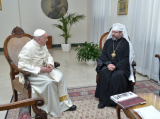 3 July at 10:00 AM, at Casa Santa Marta in the Vatican, Pope Francis met with His Beatitude Sviatoslav. The meeting was held at the request of the...
MEDIA