The Head of the UGCC: "Let us search for those who will form a unity but not build a political struggle with confrontation"
Saturday, 27 June 2015, 09:11
During this pilgrimage we were praying for two God's blessings: stopping bloodshed in Ukraine and a unity of Ukrainian nation. We are utterly convinced, God is with us. Thus we believe and know Ukraine has been and will be. But what will she be like – depends on each of us. Every Christian must master God's civic virtues, to build their own house as a Christian home, as a special kin, regal ordination.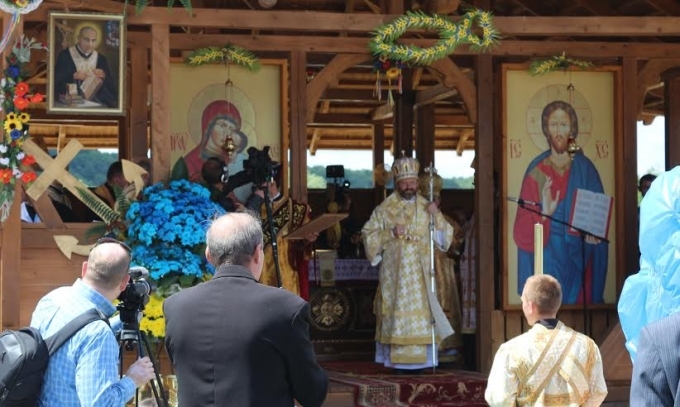 These are the words taken from the sermon, preached by the Head of the UGCC, His Beatitude Sviatoslav on the All-Ukrainian pilgrimage to Stradch, Lviv Region, on a Layman's Day, celebrated in the UGCC.
"When we feel that human's strength is not enough to stop a war, we are beseeching and praying today for God's holy will to grant peace for our long-suffering Ukrainian land", - proceeded a preacher.
His Beatitude Sviatoslav added that praying for peace for Ukraine on the Stradch Hill is significant. Yet, this hill has absorbed the whole history of Ukrainian nation's sufferings. These sufferings are endured in a glorious Way of the Cross as an affliction and torments of a Son of God.
"When we are praying for unity of the Ukrainian nation, we reside in a special dialogue with a God's servant, metropolitan Andrey Sheptytsky, whose 150th anniversary we are celebrating this year", - said he. As it is known, metropolitan Andrey was "a pastor and father of the Ukrainian nation during WW I and WW II". "Metropolitan, - continuing the Head of the UGCC, - in his heart felt the pain and affliction of his nation. He was teaching his people that Ukrainian statehood is something that is worth sacrificing life. Thus we are called for preserving and defending our statehood".
"Praying for peace and unity in Ukraine, metropolitan Andrey saw various discords, divisions and dissensions among people. In his famous work about Ukrainian statehood "How to build a native home" he says the next: "Ukrainian home can be held on a unity", - mentioned the Head of the UGCC.
A lot of people, as says His Beatitude Sviatoslav, remember such an event, related to the life of metropolitan Andrey. Once, one Ukrainian politician of WW II, who was forced to emigrate, escaping a Russian invasion, went to advise with the metropolitan about this case. It is known, the reason of a weakness of our country were the dissensions among different political parties of Ukrainian liberation movements of that times. Then, metropolitan Andrey said such words:" Man, when the wood is burning, even animals do not bite each other".
"These words are the same deep today, because now Ukraine needs a unity not only for withstanding an outer enemy. She needs unity today for changing her own country, in other words, to implement long-expected reforms", - said he.
The Head of the UGCC reminded that in a few months scheduled elections to the local government authority will be held in Ukraine. However, according to him, it is clearly seen how approaching of these elections is again connected with an inner struggle, dissensions and confrontations among Ukrainians. "Our politicians understand the essence of a political process as a political struggle between hostile camps. Pity to watch today those who instead of caring for Ukrainians' well-being … cleaves it", - continued a preacher. "And the most precious ideals of freedom, independence and honesty are the subjects of struggling and confrontation". We need so much to pray to God today for inner unity of our nation!"
The Head of the UGCC called for searching "those things that unite us and make us a single monolith", not trusting those, who part. "Let us search for those who will form a unity but not build a political struggle with confrontation", - asked he.
At the end of a Liturgy, His Beatitude Sviatoslav rewarded with a record the volunteers of ATO-zone.
Department of Information UGCC
PUBLICATIONS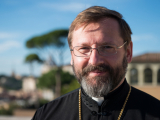 Glory to Jesus Christ! Dear Brothers and Sisters in Christ!
MEDIA