The Head of the UGCC met with Minister of Culture of Ukraine
Monday, 20 January 2014, 07:54
On Friday, January 17, 2014, at the request of the Ministry of Culture of Ukraine His Beatitude Svyatoslav the Father and Head of the UGCC met with Minister of Culture of Ukraine Leonid Mykhaylovych Novokhatko.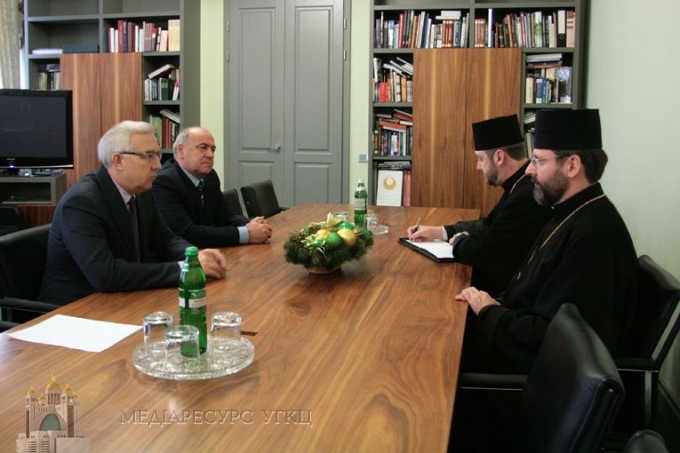 The further clarification on the letter of the Ministry of Culture on 3 January 2014 was provided at the meeting. In particular, it was stated that the Ministry does not intend to put any pressure on the Ukrainian Greek Catholic Church concerning the presence of the priests at the Independence Square or take any legal actions to stop the activities of religious organizations of the Ukrainian Greek Catholic Church.
The peace keeping role of the clergy of various denominations, including the UGCC to prevent provocations and violence during peaceful protests taking place in recent months, particularly in Kyiv was positively assessed.
For his part, His Beatitude said he hoped the public authorities, particularly those whose task is to serve the people to ensure people's right to religious freedom in Ukraine, have the wisdom not to transfere the current socio-political crisis in the religious environment too.
The parties recognized the last statements of government of inadmissibility of banning people to pray where they are physically located to be positive signals to religious community .
The meeting was also attended by Mykhayl Ivanovych Moshkola, the Head of the Department of Religions and Nationalities of the Ministry of Culture of Ukraine, and mitered Archpriest Oleksa Petriv, Head of External Relations of the UGCC in Ukraine.
UGCC Department of Information
MEDIA