The Head of the UGCC met with the newly appointed Extraordinary and Plenipotentiary Ambassador of Spain to Ukraine
Friday, 03 November 2017, 16:37
The Father and Head of the Ukrainian Greek Catholic Church His Beatitude Sviatoslav had a working meeting with the Extraordinary and Plenipotentiary Ambassador of Spain to Ukraine Mrs. Silvia Josefina Cortes Martin. The meeting took place at the request of the Ambassador.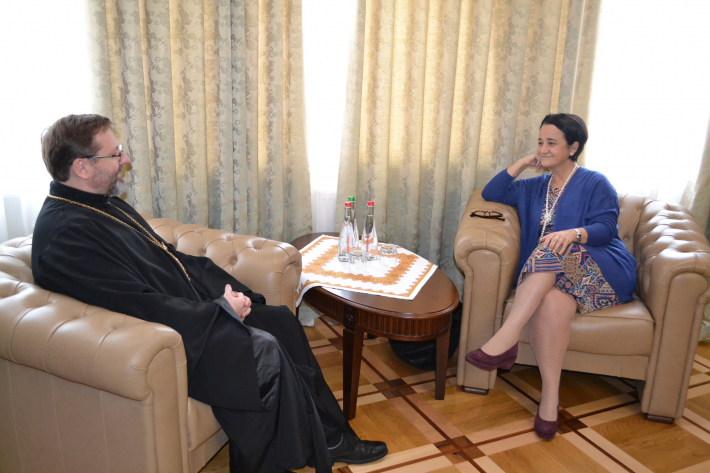 During the meeting the parties discussed many various questions, which relate to the social events, in particular, - the civil society and its role in the development of Ukraine. The sides agreed that at present the Ukrainian civil society is the leader of changes in the country.
The Ambassador noted a great role of the Ukrainian Greek Catholic Church in the social changes of the country. In particular, she observed that the role of the UGCC in the social life goes far beyond parochial boundaries. According to her words, many people listen to the UGCC, to its position regarding social life, though they might not identify themselves with this Church.
Separately the sides discussed the problem of emigration.
The Head of the Church remarked that most people emigrate to the countries of Central and Western Europe in search of earnings so that they could support their family in Ukraine. "This is labour migration. And our Church is almost the only institution which serves as a bridge between the Ukrainian society and those Ukrainian communities which now arise in Central and Western Europe," said the Head of the Church.
His Beatitude Sviatoslav told H.E. Mrs. Cortez about the Congress of Ukrainian migrants of Central and Western Europe last year and about pastoral program of ministry for emigrants. "Our pastoral tactics is integration, not assimilation," emphasized the Primate of the UGCC.
The Head of the Church informed Mrs. Ambassador about various pastoral programs aimed at reintegration of people who return to Ukraine after working abroad. Also, His Beatitude Sviatoslav stressed the importance of the issue of social orphans. The hierarch said that this is a pressing issue in the families of emigrants because someone from the parents or even both might be abroad and the children grow up with a grandmother, grandfather or other relatives and, correspondingly, do not receive proper care and upbringing.
The UGCC Department of Information
PUBLICATIONS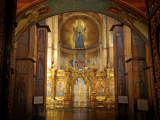 Dear brothers and sisters in Christ! Throughout our millennial history, our Church and our people have fully experienced in their bodies the...
MEDIA