The Head of the UGCC: "Once Ukrainian family saved the Church, now its holy task to save a family"
Tuesday, 14 June 2016, 13:05
Recently His Holiness Pope Francis has presented all Universal Church new apostolic exhortation "Amoris Laetitia" (The Joy of Love). All universal churches are debating on this document. There are many questions both around the text and what family ministry has to be like.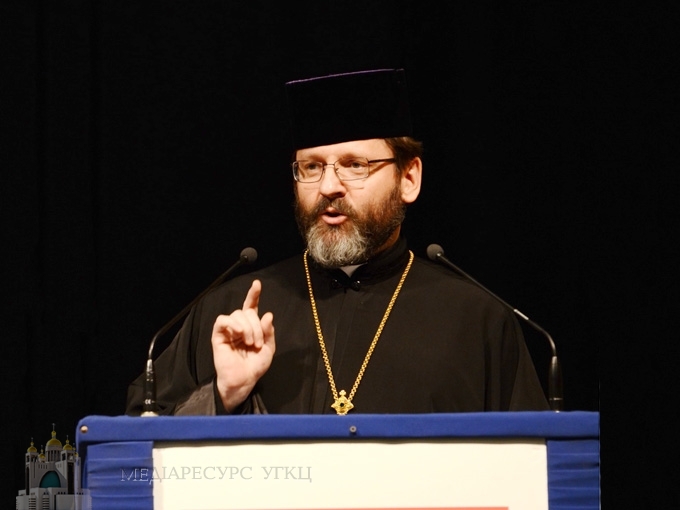 It was declared by the Head and Father of the UGCC His Beatitude Sviatoslav during the ceremony of presenting the post-synodal Pope Francis' apostolic exhortation "Amoris Laetitia", June 13 in the Lviv Patriarchal Center. This event was organized with the initiative of the UGCC Commission on Family Issues and the Institute of Marriage and Family Life of UCU.
The Head of the Church offered to think why His Holiness drew his attention to the family problem, told about the procedure of holding Pope's Synods on this theme, and analyzed the text of the document.
As a newly appointed Head of the UGCC His Beatitude Sviatoslav firstly participated in the Pope's Synod in autumn 2011 what was convoked by Pope Benedict XVI. The theme of the Synod was called "The New Evangelization". "This theme was important for Pope, since Bishop of Rome realized that in the modern world the voice of Christian communities is faded and becomes inaudible", continued the Head of the Church. – Europe has started dechristianizing. Parents who are Christians stop baptizing their children. Thus Pope called all Church to the new evangelization of the Christian countries who are losing their original livingness and freshness of a Christian life". So a synodal group that continued working on this theme was formed – Constant Council of the Pope's Synod.
It is worth mentioning that part of members of this Council are elected by a secret ballot and another part is nominated personally by Pope in his decree. Pope elected the Head of the UGCC with an individual decree as a representative of Eastern Catholic Churches. Hence the Council was working carefully on this issue with the assistance of experts from this field.
"In questions Pope Benedict XVI put before him was mentioned that the old mechanism of sharing faith had been lost in the world. A family is going through a deep crisis today. Once it was mainly a Christian experience that had been passed on in a family; what we learned from our grandparents who were our "live encyclopedias" and what we lack today", mentioned he. Many grandfathers and grandmothers live in nursing homes, while children are raised without parents.
Above mentioned group prepared for Pope Francis a post-synodal letter about a new evangelization, called "Evangelii Gaudium" (Joy of the Gospel). Later on was held a synod of two rounds – Extraordinary and Ordinary. It was necessary so as to make not only bishops-delegates be involved in the discussion but the whole Church body (those who live a married life). Shortly was set a survey at all world episcopal conferences in order to clarify an urgent family issues.
In October, 2015 was held an Ordinary Pope's Synod, in revised document of what is said that nobody has an intention to change a teaching of the Catholic Church about marriage and family. Since bishops as successors of apostles are not the masters of God's truth but its servants. "It became obvious that family institution in a global meaning is in a great danger. Family is attacked by modern cultural stereotypes in a contemporary world. New rhythms of life are the reasons people are moving fast without having a chance to meet each other during the day. An incredible loneliness exists among those who are always rushing, earning and consuming. There is no time not only for oneself and for loving too. Besides, cultural elements destroy family rhythm and create new ideologies. In particular, it is said about a gender ideology which popularizes that family is not an institution necessary for a private welfare and hapinnes", His Beatitude Sviatoslav pointed out.
Due to these circumstances, how Church is supposed to protect a family? "Once Ukrainian family saved the Church, now its holy task to save a family", he added. The Head of the Church says even though the world has new means of communication that connect it in "one global country", human is very lonely. However, this loneliness can be overcome "owing to relatives, family and another person who God created exactly for you". "In his apostolic exhortation Pope wanted to proclaim gospel of marriage to the world. Since a family is not an institution of past but vitally important and indispensable for a modern man', the Head of the Church summed up.
The UGCC Department of Information
PUBLICATIONS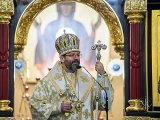 Head of the Ukrainian Greek Catholic Church brings multifaceted experience to project of evangelization.
MEDIA