The Head of the UGCC thanked the Mayor of Vilnius for the support of UGCC and Ukrainian community
Monday, 24 September 2018, 21:45
In the context of the visit of the Holy Father Francis to Lithuania on September 24, His Beatitude Sviatoslav met with the Mayor of Vilnius Mr. Remigijus Shimashius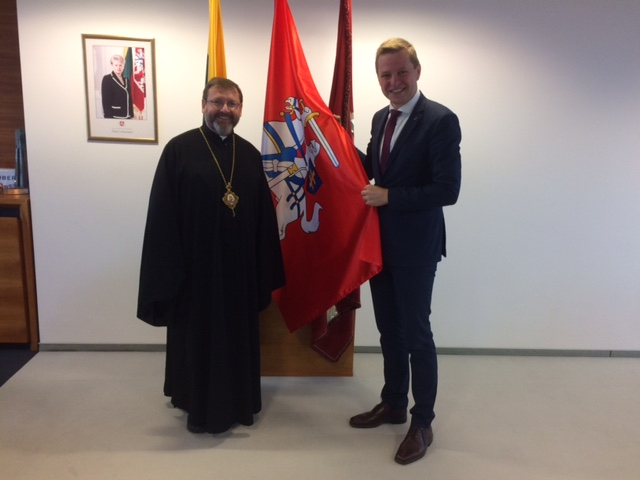 The Head of the UGCC was accompanied by Mrs. Genute Kirkene, Doctor of Historical Sciences, professor at the University of Vilnius, and Fr. Vinkentіy Pelуch, OSBM, abbot of St. Josaphat Monastery.
The parties discussed the ways of development of the ancient Basilian monastery and the Temple of the Holy Trinity as an important pastoral and pilgrimage center of the UGCC, which is also an integral part of the history and Lithuanian identity of the city of Vilnius.
Mrs. Kirkene stressed that this temple was built by Prince Kostіantуn Ostrozky as a thank-you to God for the victory over the Moscow army, which today has a special significance for both Lithuania and Ukraine.
The Vilnius Mayor paid special attention to the education of children of Ukrainian emigrants, the creation of a Ukrainian school, or at least some Ukrainian classes in Lithuanian schools, and proposed a program for the development of education with the preservation of Ukrainian national and spiritual culture.
In conclusion, His Beatitude Sviatoslav thanked Mr. Shimashius for the meeting and support of our Church and the Ukrainian community. The parties exchanged memorable gifts.
Department of Information of the UGCC
MEDIA