The Head of the UGCC: "The key to understanding human sufferings and endurance is a cross of God"
Monday, 04 April 2016, 14:22
Sooner or later all of us will stand before a face of endurance and death. But with a faith in Saviour crucified we can change what ruins us into what forms and enriches us. The Head and Father of the Ukrainian Greek-Catholic Church His Beatitude Sviatoslav appealed with this word on the Third Sunday of the Great Fast (Veneration of the Holy Cross) during his homily to the faithful in the Patriarchal Cathedral of the Resurrection of Christ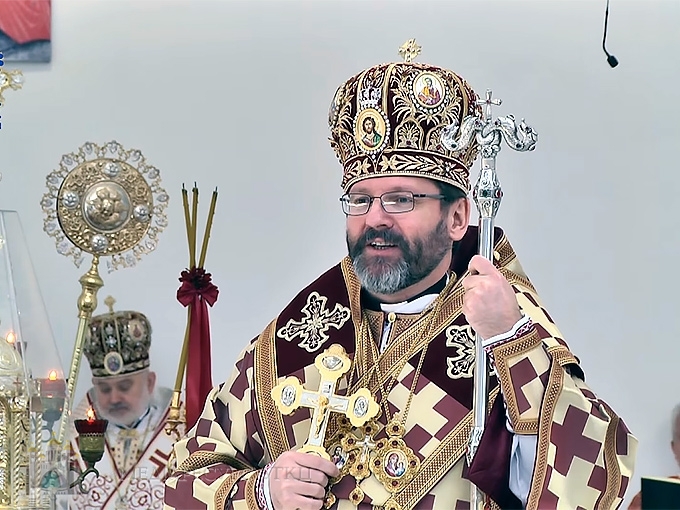 In co-service with the Head of the UGCC was bishop Josyf (Milyan), bishop-auxiliary of Kyiv Archeparchy.
The preacher explained that today, on Sunday, which marks half a way of a fasting period, Christ's Church displays before us the Precious and Life Giving Cross. So that is why we call it Veneration of the Holy Cross.
Besides, there is a special event in the Cathedral – we got a precious and life giving tree – a piece of a Cross of God. "There is a witness of the passion of our Saviour among us. It is like we can touch this event, have an opportunity to see and kiss that cross we worship today", mentioned the Major Archbishop.
But let us ask ourselves today, says His Beatitude Sviatoslav, why Christians worship the Cross of God, what is a sense of this worship?
Every culture and religion in the world brings forward a fundamental question about a sense of a human suffering. Why do we suffer and put up with testing? Certainly, every human's culture, religion respond to this question with their own manner…
Consumer culture we are living in today – considers any suffering inept and unnecessary, as well as every sort of pain. For this is a culture of delight. The one who gets a pleasure swiftly, without any responsibility, - considers to be successful. Consumer culture proposes even more – the whole business of different sorts of pleasures and delights. Thus, it covers the answer to this question from a modern person", thinks the Head of the Church.
"Why we, Christians, - proceeded he, - worship a Cross today and what do we mean by showing it to a modern person and world? We want to say that those who worship Saviour crucified and bear in themselves that living water, pouring from Him, drown up from a precious and life giving Cross, can transform rough experience sufferings into His own treasure. Sooner or later all of us will stand before a face of endurance and death. But with a faith in Saviour crucified we can change what ruins us into what forms and enriches us. Today we can stand before a face of suffering, step into it and become the winners of suffering and death. The Cross of God is a key to understanding everything. That is why Christ says not to be afraid of sufferings but to accept them. Why? Because we have a power to change it, making a gift for us. Then we grow spiritually and develop ourselves. When someone suffers for truth, simultaneously they enrich themselves with this suffering. When someone bears wounds for the love to God and neighbour, the wounds on their body become life giving ones".
The Head of the UGCC thinks that the body of our nation, our Ukraine has many wounds today. "And we are asking ourselves, - says His Beatitude Sviatoslav, - what is a sense of our soldiers' wounds, unbearable sufferings of those who are afflicted in a captivity, or, probably, is a prisoner of a blameworthy judgement, as our Nadiya Savchenko; our soldiers who lay down their lives on the altar of our Motherland. What is a sense of all of this? We find an answer to this question in a precious and life giving Cross. This experience is a revival one. It is a source of the real reforms and transformations in our society. So, when we are visiting our wounded soldiers in a military hospital, our soul seems to be palpitating as it feels these wounds are our healing and our salvation".
"Great Fast is a time of a transformation, time of a spiritual growth. So let us adore our Saviour crucified and kiss His Cross, so that this transformation, this victory appears in our personal spiritual life and becomes a treasure of a religious Ukrainian nation", wished the Head of the UGCC all faithful and people of a good will.
The UGCC Department of Information
PUBLICATIONS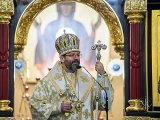 Head of the Ukrainian Greek Catholic Church brings multifaceted experience to project of evangelization.
MEDIA