The Head of the UGCC together with Bishops was praying on the birthday of Patriarch Josyph Slipyj in his family house in Zazdrist'
Friday, 18 February 2017, 23:43
Today we all together have arrived at the place, where 125 years ago a great teacher and sanctifier of our Church - Patriarch Josyph Slipyj came to this world. In this solemn Liturgy we want to thank for the gift of such a great man, leader and teacher of our Church and our people, for the gift of the ethnarch, father of the nation, who at the times of persecutions was its only voice. We want to bow down to this holy Podillia land and this faithful people who gave birth and passed on the faith to this great man.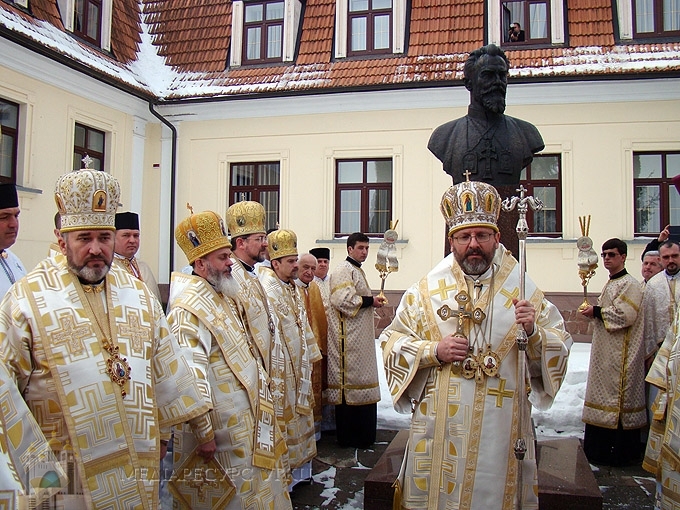 With such words the Head and Father his Beatitude Sviatoslav began his homily at the Hierarchical Divine Liturgy on the occasion of 125th-anniversary of the Patriarch Josyph Slipyj in the chapel of the museum-memorial complex "Native Home" in Zazdrist' in Ternopil oblast.
In the Mass also participated: Archbishop Ihor, Metropolitan of Lviv, archbishop Volodymyr, Metropolitan of Ivano-Frankivsk, archbishop Vasyl, Metropolitan of Ternopil-Zboriv, Bishop Venedyct, auxiliary Bishop of Lviv's archeparchy, Bishop Volodymyr, auxiliary Bishop of Lviv's archeparchy, Bishop Theodore, auxiliary Bishop of Ternopil-Zboriv archeparchy, Bishop Bohdan, administrator of Patriarchal Curia, Bishop Josaphat, exarch of Lutsk, Bishop Vasyl, eparch of Kolomyya -Chernivtsi, Bishop Dmytro, eparch of Buchach eparchy, Bishop Mykhailo, exarch of Odesa, Bishop Hlib, eparch of the eparchy of the Most Holy Family in Great Britain, Bishop Borys, eparch of the eparchy of St. Volodymyr in Paris for the Ukrainians of Byzantine rite in France, countries of Benelux and Switzerland.
The Head of the Church also invited to say the preaching word "a special person, on whose head lay the sanctifying hands of Patriarch Josyph": "This man, being a young American, entered the community of monks-studites in Rome, which Patriarch Josyph re-created because he realized that without a true eastern monastics feat there cannot be firm Church roots. This is a man who worked together with Patriarch, in particular, in the last period of his life, as a spiritual director at the Collegium of St. Sophia in Rome. He was appointed by the Synod of Bishops of the UGCC as the person in charge of this Jubilee Year, devoted to 125th-anniversary of Patriarch Josyph. This is Bishop Hlib, who is the father for our people in Great Britain and Ireland."
Explaining the chapter from the Gospel, Bishop Hlib pointed out that only when we are looking for God, we can discern the truth . "We must live according to the Truth which is God. We also must fight against every lie. We can be persecuted and mocked for this," emphasized the Bishop. According to his words, Patriarch Josyph was always looking for truth. Still when a young man, he wanted to become a priest and scholar, and when he was already educating students, he was teaching them that science is possible only after prayer. "This relates to all of us because we all have to study, improve in what we are doing because this is what the Patriarch was doing, who studied both in Austria and in Rome", - went on Bishop Hlib. - "He believed that one has to travel around the world to learn new things, because travels educate, open new horizons." That is why the motto of the university which he founded in Rome, UCU, was - "Verity and love for knowledge gather those who are scattered". This inscription even today is seen on the building of the UCU in Rome. "Patriarch Josyph was not only looking for truth, he lived by it. From the evidence it's known that he was a very strict man. When we heard his steps in the corridor, we were very careful. Why was he strict? It was not some malice or anger, but because he was always searching for truth, lived by it, he was uncompromising. He was always working on himself for his Church," noted the preacher. The Bishop underlined that the Patriarch brought up the ideal of patriarchate for the UGCC, and founded what was a dream of Metropolitan Andrej Sheptytsyj - UCU in Rome. "In all spheres he was a father, a teacher, a leader, an ethnarch. He sustained himself in truth despite all the hardships and problems. By this Liturgy and this Jubilee Year we try to glorify our Lord, Who gave us such a great man. We are happy that we are close to this unique personality, who is given by God once per several hundred years. By the example of Patriarch Josyph let us take closer to heart the words of St. John the Revelator: "Learn the truth, live in it and persevere in it," ended Bishop Hlib.
The UGCC Department of Information
PUBLICATIONS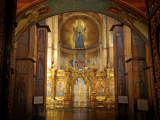 Dear brothers and sisters in Christ! Throughout our millennial history, our Church and our people have fully experienced in their bodies the...
MEDIA