The icon of Blessed Josaphata Hordashevska began its world pilgrimage
Monday, 02 September 2013, 11:35
At the initiative of the Main Administration of the Sister Servants of Mary Immaculate , who are preparing for their 125th jubilee, to be celebrated in 2017, an icon was painted of Blessed Josaphata Hordashevska with imbedded relics. Due to this event, this icon will be on a pilgrimage to congregations of nuns and parishes throughout the world, wherever the Sister Servants are serving people and the whole Universal Church.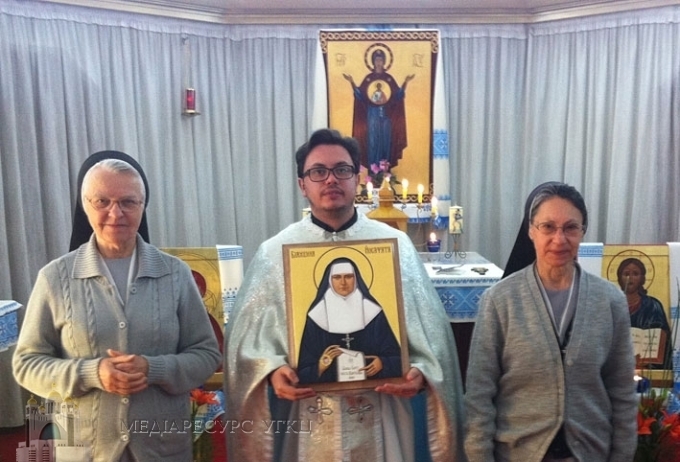 This icon was painted by a Slovak painter and on the occasion of the celebration of the 1025th anniversary of the Baptism of Rus-Ukraine in Kyiv, it was blessed by His Beatitude Sviatoslav, UGCC Head.
In accordance with the program of the Main Administration of the Congregation on August 25, 2013 the General Superior of the Congregation , Sr. Teresa Slota presented this icon to Sr. Cecilia Zamuliak, the Superior of the Delegature of St. Josaphat in Argentina. On August 28th, in the chapel of the seat of the Delegature , Rev. Nazariy Kashchak celebrated a Divine Liturgy in which during the sermon he ceremoniously greeted the pilgrimage icon. Then, during the Moleben [Prayer Service] to Blessed Josaphata, this travelling icon was officially enthroned in the Delegature of St. Josaphat in Argentina.
For UGCC Department of Information Sister Kekyliya Zamuliak
MEDIA