The II International summer school "Democracy and leadership" has started its work
Wednesday, 22 July 2015, 10:44
On 19th of July 2015 the II International summer school "Democracy and leadership" started its work. This year school has gathered 61 of participants from Ukraine, Hungary, Poland, Latvia and Belarus.
The auditorium of a summer school joined lawyers, journalists, politologists, community activists, scientists and teachers.
The subjects of the school's lectures embrace topics on a Christian social teaching, local self-management, business social responsibility, mass media, interreligious and intercultural dialogue and other sorts of themes that will be introduced by the lecturers at the lessons along three weeks.
The next three weeks the lessons will be conducted by dean's deputy of Pontifical University "Angelicum" Faculty of Social Science, Sr. Helen Alford, O.P., a dean of Political Science department of National University of "Kyiv-Mohula Academy" prof. Oleksandr Dem'yanchuk, UK tax chief Dave Hartnett, a leader of German-Ukrainian master program "German and European studios" of National University of "Kyiv-Mohula Academy" Maksim Yakovlyev, a professor of Munich School of Philosophy Johannes Muller, and many others experts. The moderators of a summer school will be the workers of Social academy. After the school will be ended on 5th of August 2015 the participants will receive certificates. International summer school "Democracy and leadership" is being held in the frames of a project "Development of a civic society", supported by the Office of religious freedom of the Ministry of foreign affairs of Canada and CNEWA Canada.
Was informed in the Council for Justice and Peace
PUBLICATIONS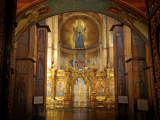 Dear brothers and sisters in Christ! Throughout our millennial history, our Church and our people have fully experienced in their bodies the...
MEDIA