The next meeting of the European Justice and Peace Commission will include the topic of nationalism
Tuesday, 17 June 2014, 14:45
On March 9-10, 2014, a working session of the Executive Committee of the European Justice and Peace Commission was held in Luxemburg
The two-day meeting was attended by seven representatives, including Rev. Oleh Luka, the Vice-Director of the European Justice and Peace Commission, as well as members from Switzerland, Scotland, France, Malta, Luxemburg and Austria, and was headed by the President of the Commission, Bishop William Kenny. During the meeting, the participants analyzed the work of all the European Commissions. A separate presentation was made to summarize the activity of the Ukrainian commission over the last half a year as well as its initiatives during the complicated social-political times in Ukraine. This year all the results of the efforts of all European Commissions in October will be confirmed by two official documents – appeals to the state authorities and to the Church on the topic of human dignity in contemporary economic realities, a topic that was a priority during this year's work of the commissions. Also there was a decision as to the next issue to be worked on as well as the need to concentrate on vital current challenges he meeting decided to pick the issue of further work and to concentrate attention on vital current challenges. The next topic of common initiatives of the European commissions was proposed: the issue of the development of nationalism in Europe. It is important to spread an understanding of nationalism in the light of Catholic teachings, viewing its positive attributes and the avoiding its negative manifestations. This will be the priority issue to be worked on by the European Commissions on Justice and Peace, beginning in the Fall of 2014 and continuing throughout the coming year of 2015.
Information Service, UGCC Commission on Peace and Justice
PUBLICATIONS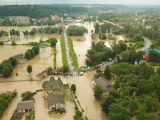 Your Graces and Excellencies, Very Reverend and Reverend Fathers, Venerable Brothers and Sisters in monastic and religious...
MEDIA