The President of Ukraine and the Prime Minister of Ukraine congratulated His Beatitude Sviatoslav on 10th anniversary of his episcopal ordination
Friday, 12 April 2019, 15:59
The President of Ukraine Petro Poroshenko and the Prime Minister of Ukraine Volodymyr Groysman in their letters to Head and Father of UGCC His Beatitude Sviatoslav congratulated him on 10th anniversary of his episcopal ordination. State guarantor and head of the executive government in Ukraine expressed their gratitude for the service of the Head of Church for Ukrainians, spreading Christian and highly moral values, as well as for good deeds for developing Ukrainian society, precisely for forming up the service of chaplains in order to support Ukrainian militaries.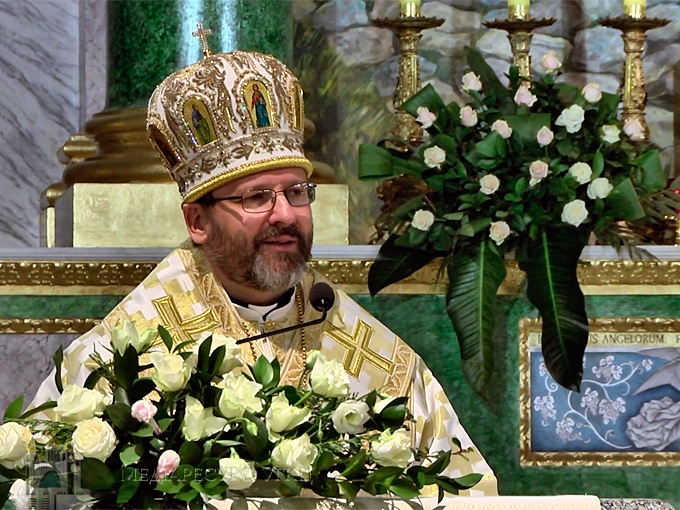 "For these ten years You have witnessed great virtues of both, Christian and a shepherd, sacrificial readiness to serve Church community and whole Ukrainian society in today's ordeals. I highly appreciate Your personal input in a voluntary work of Ukrainian Greek Catholic Church in support of our soldiers, forming up a service of chaplains and everything You do to ensure victory and peace", emphasized the President of Ukraine Petro Poroshenko.
And added afterwards: "The memorable date of Your service falls on the Annunciation Day, a big Christian holiday which evokes in our hearts hope and spring joy. Your Beatitude, may this joy follow and inspire you for indefatigable work and prayer for unity and peace, which our people need so much".
Volodymyr Groysman, the Prime Minister of Ukraine assumes that His Beatitude Sviatoslav being a spiritual leader of Greek Catholics, serves as an example to be followed, inspiring people to carry out good deeds.
"Your prayers and actions are penetrated with Christian virtues, care for people, support of their desire to live in a decent and just society, service in accordance with the interests of European, democratic and independent Ukraine. With Your example of a spiritual service and patriotism - You inspire our citizens to realize good deeds and enforce our Motherland, especially in the face of internal and external dangers what are in front of Ukraine and future of Ukrainians", pointed out the Prime Minister of Ukraine, Volodymyr Groysman. "God grants You spiritual strength and inexhaustible ideas and inspiration to realize good deeds, and God's grace and mercy be always with You", he wished.
The UGCC Department for Information
MEDIA