The records of the conversations of His Beatitude Lyubomyr (Guzar) are available for downloading on the site of the church online store
Sunday, 26 April 2015, 12:38
The church online store of the UGCC has opened the possibility to the users to download the licensed audio files from the resource (http://shop-ugcc.com.ua/zavantazhiti-audio.html) via SMS. Today the shop offers to download the records of the conversations of His Beatitude Lubomyr on various socio-political issues. Audiodisks are available for downloading in 21 countries of the world. This was reported in the church online store of the UGCC.

This initiative of the UGCC is very relevant to help everyone who wants to buy an audio file for listening and thus support the publishing of the Department of Information of the Ukrainian Greek Catholic Church - said Fr.Igor Yatsiv, the Head of the Department. - At the time when the usual disks are becoming the past, audio downloading service through the church store of the UGCC opens wider access to the useful information from around the world".
Presented to download audiodisks of His Beatitude Lubomyr report on current topics, which the society are bound up in today. "On demonstrative religiousness of the politicians", "What church do to avoid the division in the line of East-West?", "How should the referee do when the law is contrary to his conscience?", "What sacrifice to: the beauty of the temples or the construction of a hospital?".
To download the file, one of audiobooks - "Society and power", "Society and Law" or "Society and business. Conversation with His Beatitude" – it is enough to send one SMS to the number and after receiving a code - download the file. The cost of downloading one audio file is 10 UAH with VAT without PF for Ukrainian mobile operators.
Details of the terms of the audio downloading are provided on the site of the church online store at the link http://shop-ugcc.com.ua/zavantazhiti-audio.html.
UGCC Department of Information
PUBLICATIONS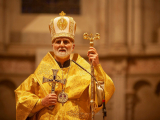 TUESDAY, JUNE 4 DURING HIERARCHIAL DIVINE LITURGY AT THE UKRAINIAN CATHOLIC CATHEDRAL IN PHILADELPHIA OVER 50 BISHOPS, WILL PARTICIPATE...
MEDIA