"The road of Ukraine to Europe - a way of developing and consolidating democracy in the Ukrainian society ", - Head of the UGCC
Friday, 04 October 2013, 11:42
Commenting for " Zhyve TV " the possible signing of the Association Agreement between Ukraine and the EU, His Beatitude Sviatoslav ( Shevchuk), head of the UGCC said that this would be a historic event for Ukraine and Ukrainian people. In his opinion, the signing of this document may be likened to a meeting of presidents in Bialowieza Forest, ending the existence of the Soviet Union as the Empire of the communist regime.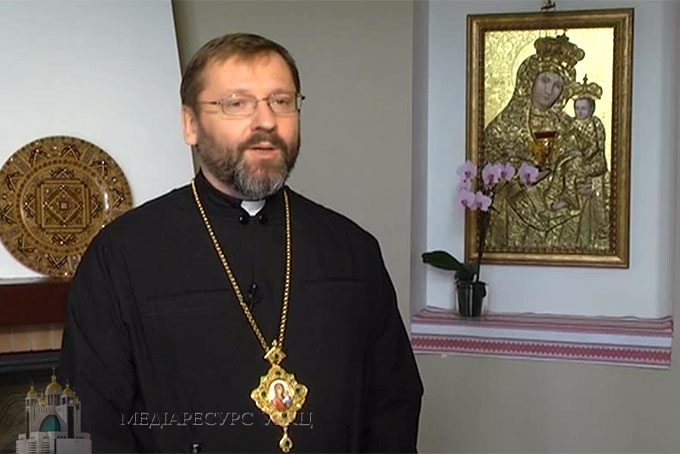 "With the Act of the Association Agreement with the EU , our independence will be established . That's why a religious community, including heads of Christian churches and religious organizations cannot keep aside from this discussion, "- he added. It is spoken about the philosophical moments of realization of Ukrainian independence of the people and the state, which will be recognized by European identity.
As the head of the UGCC mentioned, in the text of the Agreement will be said that Ukraine – is a country with a European identity. So with the signing of this document Ukraine will not be included into Europe, but will be back to it. Owing to the historical events Ukraine was alienated from the European civilization of the continent. "Today, we are, as an independent country, should open our European roots. We return to these roots and our identity as an independent country – we are back to our European family of nations, "- he added.
Finally, the Archbishop of the UGCC said that "the road of Ukraine to Europe – is a road of development and consolidating democracy in the Ukrainian society."
As we reported, September 30, 2013 the appeal of churches and religious organizations to the Ukrainian people in the debate about European values ​​in Ukraine was published.
UGCC Department of information
PUBLICATIONS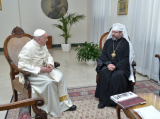 3 July at 10:00 AM, at Casa Santa Marta in the Vatican, Pope Francis met with His Beatitude Sviatoslav. The meeting was held at the request of the...
MEDIA