The UGCC carried out the public survey regarding the ecological problems of the cities
Thursday, 28 September 2012, 23:46
As we have reported earlier, from the 3rd up until the 10th of September 2012, the representatives of the UGCC Commission for Promoting Christian Unity together with the Non-Governmental Organization "European Institute of Social Communications" conducted the pilot social survey in three regional centers of Ukraine: in Kyiv, Donetsk and Odessa (800 persons in each) - to determine the attitude of the citizens to the ecological problems of the cities and to find the ways of how to overcome them.
The researchers have also tried to understand what place in the minds of inhabitants of modern Ukrainian cities is devoted to the understanding of the responsibility for the conservation of the environment, as well as, what is the role played by the religious organizations in deepening of this understanding.
"Such a survey was held prior to the celebration of the day of God the Creator (14th of September). This research, even though it is the pilot one, assists in understanding what is going on in the central, South as well as Eastern parts of the country. It is important to emphasize that, in Kyiv and in Odessa, people are concerned about the quality of drinking water, while the residents of Donetsk are worried about the environment being contaminated with the industrial waste," – comment on this event was made by Oleksandr Dobroer, who is the director of the NGO "European Institute of Social Communications". According to Mr. Oleksandr, the Church not only cares for the salvation of man, but also teaches us to hold the responsibility for the world that God entrusted us with.
According to the survey that was carried out, the majority of the people who were surveyed in
Kyiv and in Odessa consider the ecological situation within the city to be "rather unfortunate", while in Donetsk- "simply dysfunctional". They believe that in order to improve the ecological situation in Kyiv and in Odessa, it is primarily important to improve the systems of cleaning the drinking water, while in Donetsk of primary significance is the establishment of the modern systems of air purification within the industries. The detailed analysis of the survey will be presented shortly on such websites as: www.ecumenism.com.ua/ and www.primirenie.in.ua.
UGCC Department of Information
PUBLICATIONS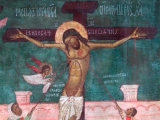 "Open to me the doors of repentance, O Giver of Life. As we worship in Your temple this morning, teach us how to purify the temple of our...
MEDIA