"To overcome the spirit of divisiveness and animosity towards others, one needs to look at the Crucifixion," stated Bishop Bohdan (Dziurakh)
Tuesday, 09 October 2012, 11:47
An international conference "The Art of Co-Existence of Christians" began on October 4 in Yalta. Its organizer, Reconciliation in Europe, is composed of representatives of churches from Germany, Poland, Belarus and Ukraine, UGCC was represented by Bishop Bohdan Dziurakh, Secretary of the UGCC Synod of Bishops and Rev. Ihor Shaban, Head of UGCC Commission on Promoting Christian Unity.
The gathering began with a prayer service for the assistance of the Holy Spirit and God's blessing on the conference led by UOC representatives.  The assembled were then greeted by the bishops of various churches.  These included:    Bishop Uland Spahlinger of the German Evangelical –Lutheran Church in Ukraine, Bishop of the Roman Catholic Church in Ukraine Marian Buchek, and Secretary of UGCC Synod of Bishops Bishop Bohdan Dziurakh.  Greetings were also read from Ukrainian Orthodox Church Primate His Beatitude Volodymyr (Sabodana), Metropolitan of Simferopol and Crimea UOC Lazar (Shvets) and the Apostolic Nuncio in Ukraine Thomas Edward Gullickson.
In his speech Bishop Bohdan turned the attention of the gathered to the source and foundation of reconciliation – the Cross of Christ, a sign of salvation, the sign of the Crucified and Resurrected Christ.
Looking at the Crucifixion should give us the realization that "salvation and reconciliation of a person with God and with each other were given to us by Christ, crucified and glorified in the Resurrection." The Secretary of the Synod of Bishops reminded the audience that it was Metropolitan Andrey (Sheptytsky) who spoke about reconciliation in the framework of Ukrainian society.    In his Pastoral Epistle "How to build one's home" published in December 1941, the then UGCC Head wrote: "If the various Christian churches in Ukraine should fulfill their mission—to give the Ukrainian people unity, they have to rid themselves of that spirit of divisiveness and hatred which makes one Ukrainian an enemy of another Ukrainian.  All of us, however many of us  there are, have to do everything possible to reconcile , to conquer within ourselves the spirit of divisiveness and animosity towards others."   According to Bishop Bohdan, in over to overcome hatred, "a spirit of divisiveness and animosity towards others," one needs to first look at the crucified Christ, to feel His gaze on us, to permit His forgiveness and mercy to enter our hearts.  Only a converted heart, cleansed from prejudices, hatred and fear, but filled with God's love is capable of opening to someone else and to begin a dialogue of love which eventually will lead to reconciliation.
The Bishop believes that the road to reconciliation can seem lasting and difficult.  However, we should go along its way entrusting that God's grace will fill and lead human efforts.  In explaining his thesis, the speaker said "The peasant, having planted quality seeds in his field "patiently awaits the precious harvest of the earth (Jac, 5, 7). "We are planting the land of our European continent with the seeds of reconciliation.  In order that our hope for a harvest be not useless, I would wish that all of us keep the eyes of our hearts turned to the life-giving Cross of Christ from which continually flow streams of grace and reconciliation, and to lift our souls in prayer to the Father who alone is the source "all good presentations and all completed gifts."
Next followed the main speakers, Professor Martin Take from Germany who presented on "Co-existence of Christians on the European continent:  history and modernity;" Dr. Oleksandr  Sagan, Ukrainian Academy of Sciences, presented on "Religious Landscape of Ukraine: contradictions and compromises" and Rev. Volodymyr Zhan, Ukrainian Catholic University, on "Reconciliation of Christians as a phenomenon of Ukrainian society."
After this a round table discussion was held, "Today's Christian: in search of a new identity." Participants exchanged perceptions of the real state of inter-confessional relations in Ukraine, cited as a worthy example to follow, reconciliation made by the bishops of Germany and Poland, and also expressed their wish that the continued dialogue among the Churches be done in the spirit of openness, sincerity and cordiality.  As a significant challenge, the  participants noted the necessity of spreading the call for reconciliation within church communities, so that all of Christ's apostles could fulfill His   testament and provide convincing witnessing of their faith to people who are far remove from the Church.
At the conclusion, Bishop Bohdan thanked the organizers and the participants for the valuable interaction in an atmosphere of sincerity and openness and for efforts made by them to keep  the idea of reconciliation alive and on-going  in the countries of Central and Eastern Europe.  In referring to the  round table, the bishop emphasized that the main identity of a Christian lies in becoming a beloved child of God.  "A Christian is a person aware of God's love towards her or him and is willing to share this love with others," and added that reconciliation should be the fruit of this kind of God's love.  He also noted that in order to have a dialogue, one not only has to want to be heard by the other side, but also has to be willing to listen to what the other side says about themselves  and how they understand themselves in order not to project  on others one's own perceptions, pre-conceptions and stereotypes.
Finally, in referring to an Italian theologian, the presenter urged for "a change of view"  "a change of heart",    and "a change of history" in the process of the inter-confessional dialogue. "Change of view" means learning to see the other not as an opponent, competitor or even enemy, but rather as a brother.  We have lost the habit to live as brethren and therein lies our greatest problem," stated the Secretary of the UGCC Synod of Bishops.  "Change of heart" means a conversion, a cleansing of the heart from negative thoughts and feelings towards Christians of other confessions.  However, the "change in history" should not refer to the past, over which we have no control and which can only be left with God, but rather that of the future:  we are called to write and create history not of opposition but of reconciliation "because our God is not the God of Polemics, but a God of Peace," ended Bishop Bohdan.
UGCC Department of Information
PUBLICATIONS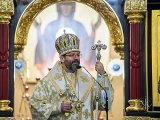 Head of the Ukrainian Greek Catholic Church brings multifaceted experience to project of evangelization.
MEDIA