UGCC appeals that government authorities recognize the unique role of Ukrainian Catholic University (UCU) in Ukraine's education sphere
Wednesday, 31 October 2012, 16:56
In its Address regarding UCU, the UGCC Synod of Bishops urges the Ministry of Education, Science, Youth and Sports, to acknowledge the unique role of UCU in Ukraine's education sphere and to be generally conducive to its activities.
The document also emphasizes that the Church "would not stand aside if there were to be injustices committed towards UCU."
The Synod expresses its solidarity with the UCU community in realizing its mission as a university and urges all UGCC faithful and people of good will to support it in different ways.
The hierarchs note that UCU is undergoing "rapid growth."  Through the support of people from Ukraine and the whole world, a unique student Collegium was built, which is the second building, following the present Church of Martyrs, around which the university campus will be constructed.  There are new departments and professional schools planned; new scholarly and publication projects have begun. The University has a long-term influence on complicated social issues. The Synod is grateful to all the contributors and appeals to them to continue supporting UCU.
UGCC underlines that today the University "is laying the foundations for the renewal and development of the theological selfhood of the whole Kyiv Christianity."
UGCC Bishops support UCU plan to have a full cycle of theological education which should culminate in doctoral programs in theology, church history and church law.  Also UCU is approaching the final approval of the development of a study research program on Kyiv Christianity and the Uniate Tradition.
"This program should strengthen the prophetic voice of the Kyiv Church and contribute towards the unification of Ukrainian Churches of Volodymyr's Baptism," emphasized the Bishops.
Note that that it has been twenty years since the beginning of the process of restoring the Lviv Theological Academy (LTA) and ten years since the inauguration of the Ukrainian Catholic University in Lviv.  It is the University which has inherited both the pre-war Lviv tradition of the Theological Academy, founded by Metropolitan Andrey Sheptytsky, and the post-war historical UCU, established by Patriarch Josyf (Slipyi).
UGCC Department of Information
PUBLICATIONS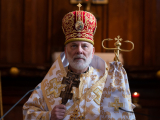 It will be necessary for many more years to assist Ukraine in its development, support people, and show them that God loves them. Bishop Kenneth...
MEDIA