UGCC expresses its gratitude to the Government of the Italian Republic for its financial assistance to those who suffered in Ukraine
Thursday, 06 March 2014, 08:28
On Friday, February 24, 1014, the official web resource of the International Red Cross (ICRC) - Italy informed that Italy passed a resolution to grant 100,000 Euros for assistance to those that suffered during clashes in Ukraine.
"Such a generous act from the Italian government to the Ukrainian people is a remarkable token that Ukraine and Italy in the last decade due to the hundred of thousand of Ukrainian immigrants in Italy, who are qualified and conscientious employees, have not only gotten to know each other better, but more than that, they have become friendly towards each other. I express my sincere and prayer-filled thanks to our Italian brothers for a genuine act of love," noted in his telephone conversation with the Press Service of the Ukrainian Greek Catholic Church in Italy, the Apostolic Visitator Bishop Dionisii (Liakhovych), who currently is in Brazil.
In its statement ICRC–Italy notes that the money will be directed towards purchasing medications and providing assistance through the ICRC-Ukraine.
There is also an announcement that Italy's donation of money is "an answer of the European Committee and EU countries to the violence in the country (in Ukraine – ed.), passed on the eve of the meeting of the abovementioned workgroup on humanitarian aid."
It is noteworthy that the recent request for assistance for the Ukrainian people and medical care for the victims was a request from the UGCC in Italy and representatives of community organizations submitted to the Permanent Committee on Human Rights of the Chamber of Deputies of Italy.
Press Center, UGCC in Italy
PUBLICATIONS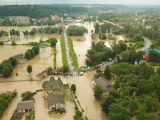 Your Graces and Excellencies, Very Reverend and Reverend Fathers, Venerable Brothers and Sisters in monastic and religious...
MEDIA