UGCC Head and President Poroshenko met on Saturday
Sunday, 01 March 2015, 11:35
President Poroshenko met with the Archbishop of the Ukrainian Greek Catholic Church Sviatoslav Shevchuk.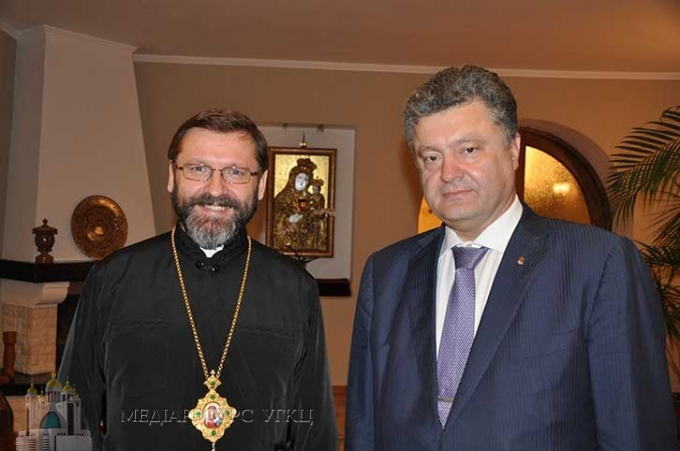 They discussed the leading role played by the Church in these crucial moments of a nation that Ukraine is going through, and stressed the importance of spiritual component to strengthen the country and achieve victory.

President Poroshenko expressed his gratitude for active patriotic position of Archbishop Sviatoslav and bishops and priests of the Ukrainian Greek Catholic Church. "Great respect and appreciation deserves your position on Russia's aggression, prayers for the Ukrainian state, soldiers that protect the most valuable thing we have - our freedom, our country, our future" - he said.

"You are making an invaluable contribution to peace, peace in your hearts, because the enemy Ukraine seeks not only for a military victory, but also wants to open a second front in the country, to sow hatred. Therefore  the word of the Church, which calls for unity today is extremely important, maybe more than ever in our history, "- said Poroshenko.

"We are trying at different levels, in different ways to engage all our spiritual strength, our ability as a global church structure and to support our country and serve the people" - said Sviatoslav Shevchuk.

The patriarch informed that during his recent visit to the Holy See he asked the Pope to initiate international charitable aid to Ukraine. "We will do everything to save people," - said the Archbishop. "I told the Pope that our Church today - a military field hospital, which treats human soul, heals wounds and trying to serve people" - he said.

The patriarch said that during a recent visit to the Vatican raised the issue of Nadia Savchenko. "We always remember her, pray for her. For Nadia is a symbol, a symbol of life and death, justice and injustice, truth and lies," - said Bishop. The patriarch expressed hope that the Holy See will take steps regarding her fate.
Source RISU
PUBLICATIONS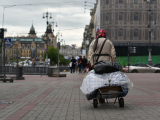 Pastoral Letter of the Synod of Bishops of the Ukrainian Greek-Catholic Church of 2020 to the clergy, religious, and laity...
MEDIA