UGCC Head blessed the transmission of the internet project Zhyve.TV
Sunday, 11 August 2013, 13:44
In Kyiv the Rite of Blessing inaugurated the sound of the UGCC internet-tv, Zhyve.TV.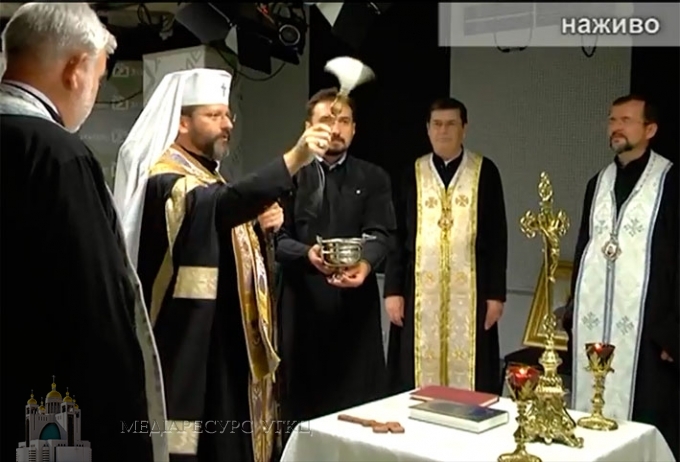 The Rite of Blessing was led by UGCC Head His Beatitude Sviatoslav. Concelebrants with the Church Primate were:  Bishop Bohdan (Dziurakh), Secretary of UGCC Synod of Bishops; Bishop Joseph (Milian), Auxiliary Bishop of Kyiv Archeparchy; Bishop Stephen (Chmilar), Eparch of Toronto (Canada); Bishop Danyil (Kozlinskyi), Apostolic Administrator of the UGCC Eparchy of the Protection of the Mother of God in Argentina and Apostolic Visitator for Ukrainians of the Byzantine Rite residing in Uruguay, Paraguay, Chile and Venezuela.
The focus of the premier of Zhyve.TV was the debut of the program Open Studio hosted by Danylo Yanevskyi.  The guest of the program was UGCC Head His Beatitude Sviatoslav. A substantial part of the conversation concerned the International All-Church Pilgrimage and the Blessing of the Patriarchal Cathedral of the Resurrection of Christ to be held in Kyiv on August 16-18.  Also the Church Head answered many questions of the users of the social network Facebook.
UGCC Head thanked the benefactor, Mr. Petro Tokach, for providing the studio equipment for Zhyve.TV and presented him with a Patriarchal Certificate of Appreciation.  "No good thing in the Church happens without good people. May this serve as an example for many other benefactors, who would like to support the good things that the Church can do today for Ukrainian society," noted His Beatitude Sviatoslav.
"Zhyve.TV is the first internet-television which became a reality," stated the head of UGCC Department of Information, archpriest Ihor Yatsiv, emphasizing that the internet-transmission is not just an experimental stage from which Zhyve.TV will transform into traditional television.  "We truly want to remain an internet-television and reach our audience through the internet," said the director of Zhyve.TV on the first program of Open Conversation.
UGCC Department of Information
PUBLICATIONS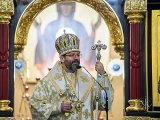 Head of the Ukrainian Greek Catholic Church brings multifaceted experience to project of evangelization.
MEDIA