UGCC Head celebrated the Divine Liturgy in the Byzantine Rite during the General Assembly of the European Bishops
Sunday, 06 October 2013, 17:45
On October 5th, His Beatitude Sviartoslav (Shevchuk), UGCC Head, led the Divine Liturgy in the Greek-Catholic Cathedral of the Exaltation of the Holy Cross in Bratislava (Slovakia). Participating in the joint prayer were members of the General Assembly of the Council of Bishops Conferences of Europe (CCEE).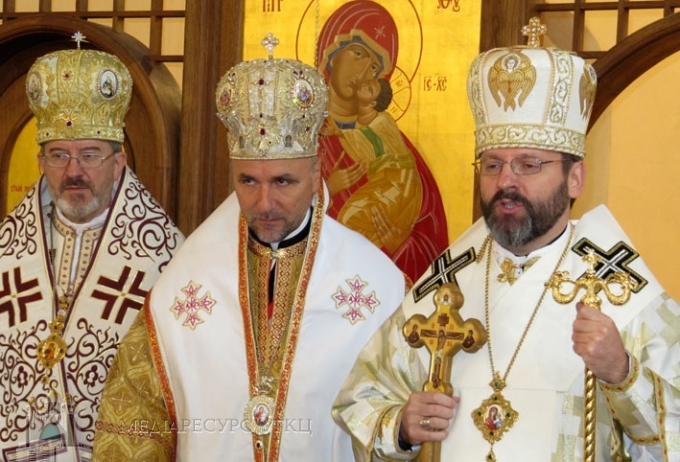 During the sermon, UGCC Primate stated that it was a big honor for him to participate in the Plenary Session of the Assembly marking the 1050th anniversary of the "bringing " of Christianity by Sts. Cyril and Methodius to the Slovak lands.
"We should educate the person in the Word of God so that the Holy Spirit can find his place in the person's further development. Within the context of the new culture of the globalized world, in which there have not remained traditional values, as Jesus says "stone on stone which shall not be destroyed' (Mt. 24, 2), let us listen to the words of the Apostle: "Give workers which as live stones build in themselves a spiritual home, a holy sacredness, in order to bring spiritual sacrifices, pleasing to God through Jesus Christ," appealed the preacher. In his opinion, "the end of the human history is not a catastrophe because it is exactly He – Christ, our Savior, and we, Christians bear Christ in ourselves."
His Beatitude Sviatoslav said that in these days in Ukraine there is much discussion about the upcoming Ukraine – EU summit, to take place in Vilnius on November 28-29. "There is expectation that our country can finally enter the European Association," expressed his hopes the UGCC Head. According to him, Christians (Catholic, Orthodox and Protestants), Jews and Muslims, on the one hand, are unanimous about the process of Euro-integration, however, on the other hand, they question the values in Europe in terms of what will happen to families and the religious life in Ukraine. "Considering this, at this historic moment, the ratification of the decision is not only about the future of Ukraine but also all of Eastern Europe and millions of Christians of various confessions, and so we ask your support and prayers," His Beatitude Sviatoslav turned to all present in his prayers.
As we previously informed, on October 6-8, His Beatitude Sviatoslav (Shevchuk) is participating in this year's General Assembly of the Council of Bishops Conferences of Europe (CCEE) which is being held in Bratislava (Slovakia). The topic is "God and the State: Europe among the worldly and secularism."
UGCC Department of Information
PUBLICATIONS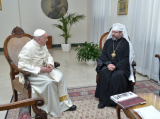 3 July at 10:00 AM, at Casa Santa Marta in the Vatican, Pope Francis met with His Beatitude Sviatoslav. The meeting was held at the request of the...
MEDIA