UGCC Head completed his pastoral visit to the Saskatoon Eparchy on the eve of the centennial of the cathedral parish
Thursday, 28 September 2012, 23:58
On September 23, 2012 the visit of the UGCC Primate to the Saskatoon Eparchy in Canada ended. He led the Pontifical Divine Liturgy in St. George's Cathedral in Saskatoon, co-celebrated by Bishop Bryan (Bayda), Saskatoon Eparch. After the Liturgy, the iconostasis in the Church of the Blessed Martyrs Olimpia and Lavrentiy was blessed.
During his five-day visit to the Saskatoon Eparchy, His Beatitude Sviatoslav met with priests, catechists, school children, students, youth, adult laity and elderly people.  UGCC Head visited four eparchial cities – Saskatoon, Regina, Prince Albert and Yorkton – which are also the eparchial deacon seats.
St. George's Parish in Saskatoon has served as the center of worship for resettled Ukrainians since 1910.  The first organized meeting of the parish took place on September 29, 1912.  A wooden Roman-Catholic church, purchased by Ukrainians in 1917, served as the first church for Ukrainians in Saskatoon.
The construction of the present Cathedral lasted from 1939 to 1943.  It is an edifice with eight domes rising from a foundation that is in the format of a cross.  It is built in a Byzantine style, contains three apses:  from the north, south and east side.  The interior painting of the church was done during 1950-55.  The iconostasis was completed in 1991.
When the Saskatoon Eparchy was formed on April 7, 1951, the parish became St. George's Cathedral. Here was the enthronization of Bishop Andriy (Roboreka), the first bishop in 1951, Bishop Vasyl (Filevych) in 1984, Bishop Kornyliy (Pasichnyi) in 1996, Bishop Mykhailo (Wiwchar) in 2000 and Bishop Bryan (Bayda), present eparch, in 2008.
UGCC Department of Information
PUBLICATIONS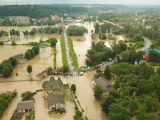 Your Graces and Excellencies, Very Reverend and Reverend Fathers, Venerable Brothers and Sisters in monastic and religious...
MEDIA