UGCC Head delivers a gift from Ukrainian pilgrims to the Holy Father
Thursday, 18 October 2012, 09:48
During the All-Ukrainian Pilgrimage held on October 13-15, 2012 to St. Sophia Cathedral in Rome, UGCC Head, His Beatitude Sviatoslav (Shevchuk), gave His Holiness Benedict XVI a gift from Ukrainian pilgrims who gathered in large numbers at this sacred place. The UGCC Primate presented the Pope with an icon lamp in the shape of St. Sophia Cathedral in Rome, specifically crafted in silver and gilded in gold by Lobortas Classic Jewelry House in Kyiv.
In presenting this gift, His Beatitude Sviatoslav noted that this lamp symbolizes the Church which is "the light of nations" as is mentioned in the Constitution «Lumen gentium», ratified by the Second Vatican Council fifty years ago.  The UGCC Head added that the restored Cathedral of St. Sophia in Rome signifies for UGCC, a new evangelization in the commencement by the Pope of the "Year of Faith" in the Catholic Church.
"I am sincerely grateful to Ukrainians for this gift and for the gift of preserving and transmitting the Christina faith, as well as for the witnessing of faith done by Patriarch Josyf (Slipyi).  This lamp will always remind me of Ukraine and its people, and mainly the Church, which becomes the light of faith in the whole world," stated His Holiness Pope Benedict XVI.
Let us note, that the construction of the Cathedral of St. Sophia was begun in 1967.  His Beatitude Josyf Slipyi and seventeen Ukrainian bishops, in the presence of Pope Paul VI -- who brought to St. Sophia from the Cathedral of St. Clement a piece of the relics of that saint and placed them under the main altar -- completed the act of consecrating the church and altar background mosaic, the creation of a renowned Ukrainian artist Sviatoslav Hordynsky.  The restoration of the Cathedral began a year ago and was completed thanks to the donations of UGCC faithful from throughout the world.
UGCC Department of Information
PUBLICATIONS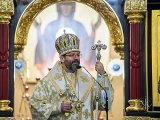 Head of the Ukrainian Greek Catholic Church brings multifaceted experience to project of evangelization.
MEDIA