UGCC head of in Venice: We expect positive results from the development of an ecumenical dialogue between Catholics and Orthodox
Friday, 14 October 2011, 12:47
From the very beginning of my ministry as head of the UGCC, I said that the desire for unity and communion between the churches is our top priority. In the spirit of my immediate predecessors I repeat the words "forgive and ask for forgiveness" and hope for the same response from the Orthodox brothers. His Beatitidue Sviatoslav (Shevchuk) expressed these words in his address at the Ecumenical Institute in Venice. On October 12 he delivered a report "UGCC's Contribution to the Dialogue with the Orthodox in the Catholic-Orthodox Joint Commission."
From the very beginning of my ministry as head of the UGCC, I said that the desire for unity and communion between the churches is our top priority. In the spirit of my immediate predecessors I repeat the words "forgive and ask for forgiveness" and hope for the same response from the Orthodox brothers. His Beatitidue Sviatoslav (Shevchuk) expressed these words in his address at the Ecumenical Institute in Venice. On October 12 he delivered a report "UGCC's Contribution to the Dialogue with the Orthodox in the Catholic-Orthodox Joint Commission." "Greek Catholic Churches, particularly in the last two decades, seek to give a true testimony to complete Orthodoxy and unity," said the UGCC primate. After the promulgation of the Code of Canons of the Eastern Churches, they began thinking more deeply about their special status and tried to find a synthesis between the Catholic and Orthodox ecclesiology. We are well aware of the difficulties that may arise in this process but agree with the absolute necessity that such a dialogue between Catholics and Orthodox should continue." According to Patriarch Sviatoslav, Eastern Catholic Churches can make a significant contribution to the theological dialogue with the Orthodox, primarily because of its full compliance with the Eastern tradition. "After meeting with Metropolitan Volodymyr of the UOC-MP I was convinced that we have established a relationship of openness and sincerity. We know about the differences, but we promised to work together where possible. It is in this perspective, I would like to continue efforts toward the unity of our church," the head of the UGCC.  
UGCC Information Department
PUBLICATIONS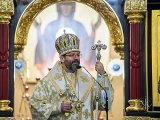 Head of the Ukrainian Greek Catholic Church brings multifaceted experience to project of evangelization.
MEDIA