UGCC Head participated in the canonizations of Pope John Paul XXIII John Paul II
Tuesday, 29 April 2014, 15:33
This morning His Beatitude Sviatoslav, Father and Head of UGCC, participated in the canonizations two renowned Roman Bishops of the last century: Pope John XXIII and Pope John Paul II. Concelebrants with His Holiness Father Frances were Prelates of various Eastern Churches, 150 Cardinals and over 700 Bishops.
The Liturgy started with a prayer to the Mercy of God and a Litany to all the Saints, during which the entry procession of all the celebrants took place. At the beginning of the Holy Mass, the postulators beseeched His Holiness the Pope to declare the sainthood of the two Popes. Following a prayer to the Holy Spirit, Pope Francis read the Canonization Declaration. Then the relics of the newly proclaimed saints were carried in and deposited in the place designated for newly proclaimed saints.
Floribeth Mora of Costa Rica, healed through the intercession of St. John Paul II, carried in his relics, while a relative of Saint John XXIII carried his relics.
"The newly pronounced saints drank fully to the end their chalice of human suffering in the last century. While Pope John XXIII stopped the Caribbean Crisis, when the world stood on the brink of an atom war, it was Pope John II who led humankind into the 3rd Millennium with a great hope that peace would reign in the world. It was he who was the person who could destroy various walls of the 20th century," related His Beatitude Sviatoslav in his comments on the canonizations of two Popes.
He believes that "this event has an important significance in the context of events in Ukraine, since the newly canonized saints were fighters for peace in the world and they will pray to God that Ukraine not suffer new aggression and that that human blood will never again be shed on our land."
Besides this, reminded UGCC Head, it is precisely thanks to Pope John XXIII that Patriarch Josyf Slipyj was released from his Siberian internment, and Pope John Paul II visited Ukraine: "These are two significant signs, that today Almighty God sends to the Ukrainian nation, in order to demonstrate that goodness and God's power are always victorious."
Press Service, Saint Sophia Association
PUBLICATIONS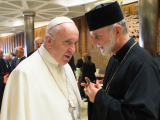 An unprecedented event took place in Rome on July 5-6. Desiring to demonstrate support for the Ukrainian Greek-Catholic Church at a time of...
MEDIA