UGCC hierarchs of Western Europe meet in Rome
Thursday, 31 January 2013, 12:21
On Tuesday, January 29, 2013, a meeting of UGCC hierarchs of Western Europe was held in the Patriarchal Residence, located on Madonna dei Monti Square in Rome. Participants were: Bishop Petro (Kryk), Apostolic Exarch in Germany and Scandinavian countries; Bishop Hlib (Lonchyna), Eparch of the Holy Family Eparchate headquartered in London; Bishop Dionisiy (Liakhovych), Apostolic Visitator for Ukrainian Greek-Catholics in Italy and Spain; Bishop Borys (Gudziak), Eparch of the Paris Eparchate of St. Volodymyr the Great for Ukrainians of the Byzantine Rite in France.
The hierarchs gathered in order to further a closer collaboration among UGCC structures in the abovementioned countries.  Among the issues examined during the deliberations in Rome were the training and selection of priests for pastoral care in countries of Western Europe.  The hierarchs also sought to become better acquainted with issues of pastoral experience in their various countries and to exchange their experiences with one another.  The faithful in these countries include both representatives of the former waves of emigration who today already form a permanent Ukrainian diaspora, as well as representatives of the current massive emigration from Ukraine.
Within the context of the set objectives, issues on the agenda included the development of UGCC in Western Europe:  implementing the strategy of development of UGCC until 2020:  "A vibrant parish – a place to encounter the living Christ" ;  pastoral care of children and youth, preservation of own spiritual and national identity, fostering vocations;  catechization for children, youth, adults; integration, mixed marriages, countering assimilation;  liturgical themes: unification and approval of liturgical texts in foreign languages, Sacrament of Communion  for children;  joint days of spiritual renewal and gatherings for a mutual exchange of information and experience by UGCC pastors in Western Europe;  financial issues, criteria for donation drives.
It is noteworthy that recently (18-19 January) Pope Benedict XVI raised the existing Apostolic exarchates for Byzantine Rite Ukrainians in Great Britain and France to that of eparchies.
As of now, the London Eparchy has 30 parishes while the Paris Eparchy has 25.
In Germany and Scandinavia, the Apostolic Exarchate, established in 1959, includes some 75 parishes.
At the request of UGCC Synod of Bishops, the Holy Father designated an Apostolic Visitator for UGCC faithful, numbering mostly migrant workers, in  Italy (2003) and in Spain (2004).  However, UGCC in these countries does not have an official legal structure.  Today, UGCC parishes in Italy number 140 and in Spain they number 40.  Usually church services are held in local Roman-Catholic churches, and the legal status of the Ukrainian church congregations has the  form of chaplaincy or a mission for the faithful of another Church  sui iuris [of their own right] on the territory of the Latin Church.
Overall, some 1.5 million Ukrainians reside in Germany, England, France, Italy and Spain.
Based on sociological research, one may assume that a large percentage of Ukrainians living in the mentioned countries are UGCC faithful, among whom despite much effort, not all have pastoral care.  Overall, there are 125 priests serving as UGCC pastors for more than 300 church communities on the territories of the mentioned Western European countries
"We want to assist our faithful overseas to realize that they are not, as they are often called "migrant workers" but that, above all, they are witnesses of faith, dignified members of a Martyred Church, which Christ miraculously and  sacramentally resurrected. They are the sons and daughters of a people whom the Lord with His forceful hand is leading from the home of slavery, a people with a long history and a rich historical heritage.  We are all called to be apostles of the faith of Christ and ambassadors of Ukrainian culture.  Our presence in various countries of western Europe is also an opportunity to get a deeper understanding of Catholicism – it is a unity in diversity,"  stated Bishop Dionisiy (Liakhovych) at the conclusion of his press conference with UGCC Press Office in Italy.
UGCC Press Service in Italy
PUBLICATIONS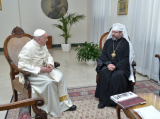 3 July at 10:00 AM, at Casa Santa Marta in the Vatican, Pope Francis met with His Beatitude Sviatoslav. The meeting was held at the request of the...
MEDIA