UGCC Synod of Bishops began its work with a Pontifical Divine Liturgy in Lviv
Sunday, 07 September 2014, 12:51
On September 7th in St. George Cathedral, with a Pontifical Divine Liturgy officially the next session of the Synod of Bishops of the Ukrainian Greek-Catholic Church began. This Synod will have the main theme as "Managing God's gifts." The Synod will last until September 14th and will be held in the recollection-vacation complex of UGCC Lviv Archeparchy in Briukhovychi near Lviv.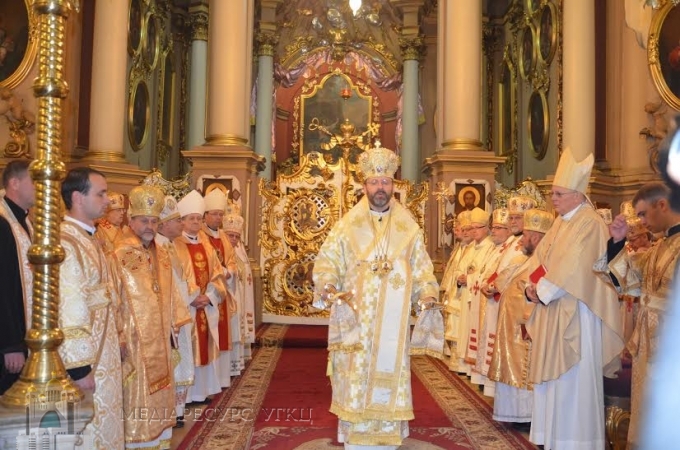 Participating in the Divine Liturgy were: the members of the Synod of Bishops; Apostolic Nuncio in Ukraine, Thomas Edward Hallickson; representatives of Bishops Conferences from USA, Germany, France, and Italy. In particular, Most Reverend Bishop Donato Oliverio (S.E.R. Donato Oliverio) with P. Sergio Straface of the Italian Bishops Conference; Most Reverend Bishop Mgr. Gérard Daucourt with P. Didier Bertnet –French Bishops Conference; Most Reverend Blase J. Cupich) with Dr. Declan Murphy – American Bishops Conference; Most Reverend Bishop Dr. Stephan Ackermann – German Bishops Conference, who was escorted by Rev. Ivan Sokhan.
Also present were Bishop Filaret (Kucherov), UOC (MP) Bishop of Lviv and Halychyna. "your presence is a sign of great solidarity with our Church and the Ukrainian people in this uneasy time for our national and church life," said UGCC Head.
In turning to the Gospel, UGCC Head noted that the Sunday parable about the vineyard owner summarizes the history of the interaction of God and man: "God did not simply plant a vineyard. He truted it to his envoys, in other words – to all those who carry His word. He expects from man a fruitful activity in his vineyard. Because the vineyard is the property of God and not man." The preacher also mentioned that all who are called to work in God's vineyard, should in due time return the fruits of one's labor to its owner.
At the conclusion of the Divine Liturgy Bishop Bohdan (Dziurakh), UGCC Synod of Bishops Secretary , read the Decree of UGCC Head about the beginning of the Synod of UGCC Bishops.
At the end, the bishops prayed a Memorial Service for Patriarch Josyf Slipyj since that day marked the 30th Anniversary of his death.
UGCC Department of Information
PUBLICATIONS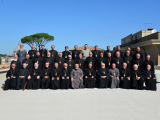 And you shall know the truth, and the truth shall set you free (John 8:32)
MEDIA