"Ukraine is experiencing a large-scale humanitarian catastrophe" - the Head of the UGCC on the meeting with Cardinal Sandri
Wednesday, 18 February 2015, 19:16
During the visit ad Limina to the Holy See on 18 February was held the meeting of the Synod of Bishops of the UGCC with Cardinal Leonardo Sandri, the prefect of the Congregation for the Oriental Churches.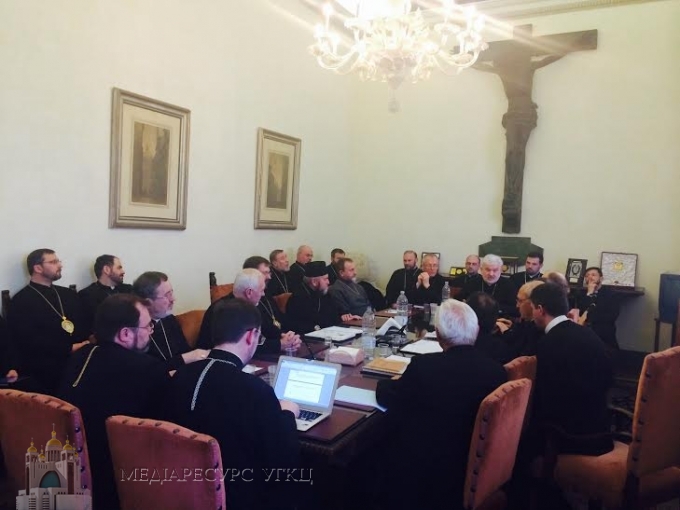 At the meeting with the Head of the Vatican dicastery, which takes care of the Eastern Churches, the Bishops of the UGCC discussed the most topical issues of the current situation in Ukraine and the service of the Church in the state of war.
In His address to Cardinal Sandri His Beatitude said that "there is no civil war in Ukraine. The idea of ​​a civil war is a part of Russian propaganda that tries to convince the West that the East Ukraine separatists are fighting against the Ukrainian state". The Head of the UGCC also pointed to the problem of a humanitarian catastrophe in Ukraine that "since the Second World War is the greatest in the history of Ukrainian people".
In addition, His Beatitude Sviatoslav handed to Cardinal Sandri the fruit of years of work of the Synod of Bishops – the approved ad experimentum for three years Canons of the particular law of the UGCC. "It is also evidence of the unity of the Church not only in Ukraine, but throughout the world", - said the Head of the UGCC and explained.
In addition, during the meeting was discussed the topic of formation of new structures of the UGCC and their necessity for pastoral ministry of the Church. The individual speech on the subject was presented by Bishop Joseph, the Bishop of Kyiv Archeparchy and the Head of Pastoral Missionary Department of the UGCC.
We have to add that the meeting was also attended by Archbishop Cyril, the Secretary of the Congregation for the Oriental Churches.
Press Service of the Company "Saint Sophia"
PUBLICATIONS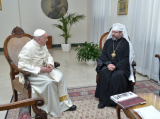 3 July at 10:00 AM, at Casa Santa Marta in the Vatican, Pope Francis met with His Beatitude Sviatoslav. The meeting was held at the request of the...
MEDIA