Ukraine needs a Christian elite
Friday, 07 November 2008, 11:30
"What do we need today in Ukraine, what do we lack? Is there a shortage of research workers, doctors, teachers?" – asked His Beatitude Lubomyr, Major Archbishop of Kyiv and Halych, in his appeal to the participants of the round table which took place on November 1, 2008 in Kyiv. "We lack a Christian elite: people who have not only high professional skills, not only a broad world view, but also persons who have high Christian awareness."
"What do we need today in Ukraine, what do we lack? Is there a shortage of research workers, doctors, teachers?" – asked His Beatitude Lubomyr, Major Archbishop of Kyiv and Halych, in his appeal to the participants of the round table which took place on November 1, 2008 in Kyiv. "We lack a Christian elite: people who have not only high professional skills, not only a broad world view, but also persons who have high Christian awareness."
During his speech the Head of the UGCC talked about a Christian elite not only in reference to political and civic life but also considering inter-confessional dialog: "Why it is so difficult for us to find understanding between confessions in Ukraine? Because we do not have a Christian elite. If there were among Catholics, Orthodox, Protestants, enough persons who are real Christian elite, it would be considerably more easy for us to conduct an ecumenical dialogue. It is difficult to carry out a dialogue with those who are not ripe for dialogue." In the opinion of His Beatitude Lubomyr, if there is a real elite on both sides, then there is justified hope for mutual understanding. Therefore we have to work so that we have "enough people at a high intellectual and religious level of development," the Head of the UGCC said.
The round table "From 1939 to 2008: The solidarity of generations before the challenges of modernity," with the participation of the youth federation of the UGCC Obnova (Renewal), began Social Week 2008, which will be conducted for the first time since Ukrainian independence on November 1 - 5 in Kyiv, on November 14 in Donets'k, and on November 25 - 26 in Odesa. The theme of the week is "On the path to the solidarity of Ukrainian society." Tomorrow, November 2, as part of the Social Week the following events will take place:
•
Divine Liturgy, sermon of His Beatitude Lubomyr on solidarity (Church of the Annunciation of the Most Holy Mother of God on the territory of the Patriarchal Center of the UGCC; Mykil'sko-Slobids'ka St. 5, metro station "Livoberazhna"). Beginning at 11.00.
•
An act of solidarity: the participants of Social Week visit a prison isolator, children's institution, old people's home, and an institution for mentally sick persons (departure from the Patriarchal Cathedral at 14.00).
Information Department of the UGCC
PUBLICATIONS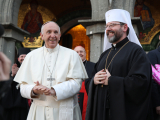 ROME - As the Catholic Church's Synod of Bishops in Rome was meeting on Oct. 11, it was another synod across the Aegean Sea in Turkey that sent...
MEDIA