Ukrainian Delegation of military set out for a 60th International military pilgrimage
Wednesday, 16 May 2018, 20:22
On Sunday, May 13, 2018 Ukrainian military with chaplains set out for 60th International military pilgrimage to Lourdes. This year a delegation of pilgrims from Ukraine is the most numerous over the last years and reaches 200 people. Ukrainian delegation is headed by bishop Mykhailo Koltun, head of Military Chaplaincy Department of Patriarchal Curia of UGCC.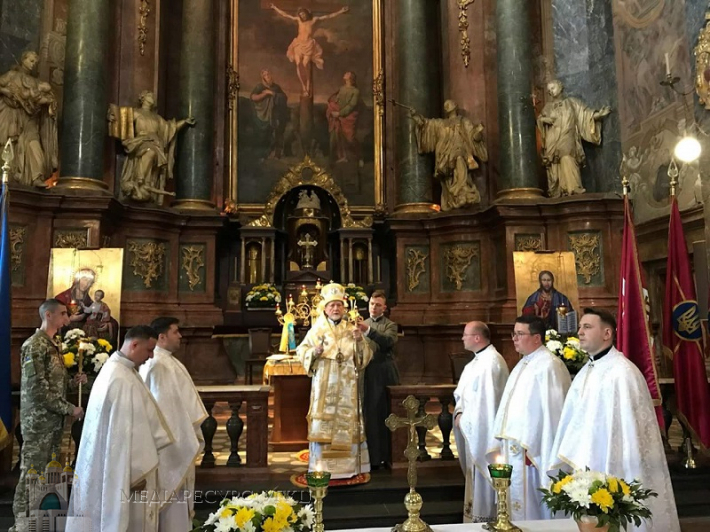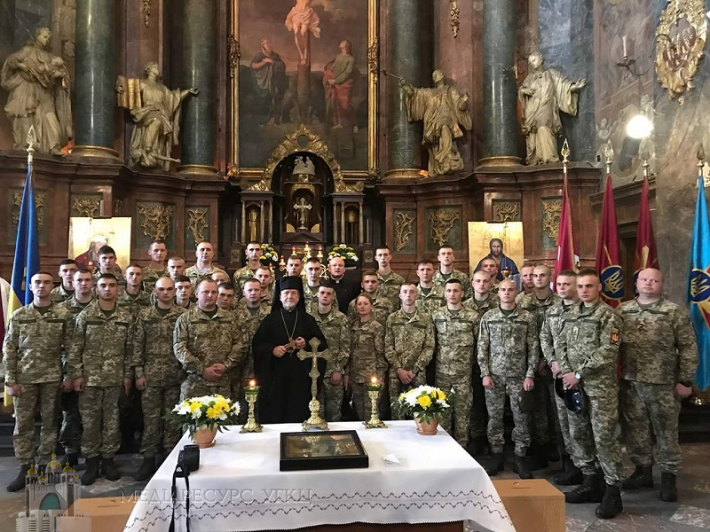 A pilgrimage started with a Divine Liturgy in St. Peter and Paul Church in Lviv.
Pilgrims of this year are militaries from Armed Forces, National Guard and State Border Guard Service of Ukraine, officers, cadets, militaries in reserve, army doctors and members of ATO and, particularly wounded militaries. This is the first time when Ukraine will be accompanied by military orchestra of Hetman Petro Sahaidachnyi National Academy of Ground Forces. Transport expanses for the participants of the orchestra were donated by Vira Benio.
A topic of a jubilee International military pilgrimage is called "Pacem in Тerris" (Peace on Earth). Militaries from around the world will arrive to Sanctuary of Our Lady of Lourdes to get a spiritual renewal and commonly pray to the Blessed Virgin Mary for understanding, peace and calmness in the whole world.
A program includes spiritually-praying and official events, among what are common services, blessing of the sick, visiting Sanctuary's font and a big procession with lit candles.
On the way to Lourdes pilgrims will have excursions at Christian sanctuaries and historical monuments in Poland, Germany, Belgium and France. Traditionally, on the way back militaries visit Vatican and Rome, Venice and Budapest.
A pilgrimage for Ukrainian militaries was formed by Military Chaplaincy Department of Patriarchal Curia of UGCC together with Patriarchal Pilgrim's Center with assistance from Ministry of Defence of Ukraine and financial support from Knights of Columbus.
Reference
Military pilgrimages to Sanctuary of Our Lady of Lourdes have been performed since 1946. And the first International military pilgrimage was organized in 1958 aiming at reconciliation of countries after II World War. Since then, Lourdes has been a place of prayer and healing for militaries, who represent over 35 world countries.
It is a twenty second pilgrimage for Ukrainian delegation this year, moreover, the most numerous one. The representatives of our state are constant participants of a military pilgrimage to the miraculous place in Lourdes since 1996.
Press Center of Military Chaplaincy Department of UGCC
MEDIA