Ukrainians in Hungary celebrated the Resurrection of Christ
Friday, 25 April 2014, 19:37
On April 20 the representatives of Ukrainian community in many parts of Hungary traditionally celebrated the Resurrection of Christ in Budapest. Ukrainian Easter our faithful traditionally celebrated in the Greek Catholic Church of St.Florian, which is in the second district of Budapest.
The Divine Liturgy was served by the Greek Catholic priest from Kyiv Fr.Damian Gaboriy. The festive solemnity, special beauty and harmony to the ritual actions was added by the fact that John Chrysostom liturgy was sung by Saint Ephraim Male Choir. Father Damian made ​​a festive message to the Head of the Ukrainian Greek Catholic Church, His Beatitude Sviatoslav. Then the present prayed the Requiem Mass for the heroes of Heavenly Hundred.
After the mass the believers began to emerge into the public garden adjacent to the church. And there for Ukrainians was opened a view for the picturesque square of ​​Taras Shevchenko, where a monument to the great Ukrainian poet was set up. His image smoothly blended into the context of our religious and national holidays on Hungarian lands. Here, outdoors, for guests was waiting a table covered with a rich variety of dishes to the faithful to break the period of prolonged fasting.
Easter celebration was arranged by the Ukrainian government of the IV-th , VIII-th i IX-th districts of Budapest with the assistance of the Central Authority of the Ukrainian government in Hungary.
On the same day, Fr.Damian consecrated the Easter baskets at the Ukrainian Embassy to the diplomatic corps.
Press Service of the Ukrainian government in Hungary
PUBLICATIONS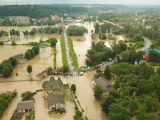 Your Graces and Excellencies, Very Reverend and Reverend Fathers, Venerable Brothers and Sisters in monastic and religious...
MEDIA