Ukrainians in Italy prepare to commemorate the 80th anniversary of Holodomor [Great Famine]– Genocide of Ukrainians
Thursday, 14 November 2013, 15:48
During November 18-24, 2013, a Week Commemorating the Victims of the Holodomor will take place in Rome. The efforts are being organized by the Community Committee in Italy to honor the 80th anniversary of the Holodomor-Genocide, together with UGCC, the Ukrainian Embassy in Italy and in the Holy See, and the Rome City Council.
During November 18 – 27, in the Palazzo Valentini there will be an exhibit of Ukraine – 3000, Ukrainian Charitable Fund, "Perished from Famine: the Unknown Genocide of Ukrainians during 1932-33" presented by the Citizen's Committee (Kyiv) and the Christian Association of Ukrainians in Italy, assisted by the Ukrainian Embassy in Italy. The official opening of the exhibit will be held on Thursday, November 24th, at 4 pm.
On November 19th, in Casa della Memoria, the book Ukrainian Notebooks will be presented by Prof. Oksana Pakhlovsky. Organizers: Christian Association of Ukrainians in Italy and the Rome City Council.
On November 21st, an International Scholarly Conference on "Holodomor – 80th- year memorial of the Ukrainian Genocide" will be held in the Carroccio Hall of Rome City Council. It is organized by the Christian Association of Ukrainians in Italy, in cooperation with the Italian Association of Ukrainian Studies through the assistance of the supplementary counselor of the Rome City Council, Tetiana Kuzyk.
Renowned scholars will participate in the conference: Prof. Dzhovanna Brodzhi, Prof. Oksana Pakhlovska, Prof. Alberto Bashani, Prof. Simone Bellecca, Prof. Julia Lami, Rev. Dr. Atanaziy Makvey, historical candidate Volodymyr Viatrovych, Prof. Volodymyr Serhiychuk, Ambassador of Ukraine to Italy Evhen Perelyhin, and Apostolic Visitator for Ukrainians in Italy and Spain, Bishop Dionisii (Liakhovych).
November 23: Memorial Day for Victims of Holodomor in Ukraine (1932-33)
4:00 pm : Pontifical Divine Liturgy for Holodomor Victims, led by UGCC Head, His Beatitude Sviatoslav (Shevchuk) with members of UGCC Synod of Bishops as concelebrants at Cathedral of St. Sophia (via di Boccea, 478, Rome) followed by a Panakhyda [Memorial Service] and the lighting of memorial candles.
November 24: Ukrainian community participates in the Divine Liturgy at St. Peter's Square, a joint prayer with His Holy Father for the Holodomor Victims during "Angel of God"
6:00 pm – a Community Memorial Service on Republic Square with the participation of clergy, representatives of Ukrainian and Italian government
7:30 pm – Requiem Concert in the Church of Mary of the Angels and Martyrs (Republic Square)
The exhibit, "Ukraine 3000" will also be shown at Calabria. Thanks to efforts by Volodymyr Stepaniuk, head of the Ukrainian Community Organization (OSI), local school children will visit the exhibit.
Oles Horodetsky, head of the Community Committee in Italy
to Commemorate Holodomor-Genocide Victims
PUBLICATIONS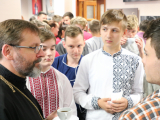 Today, more than ever, is the time for your boldest dreams: to tame the universe, to find a cure for cancer, to conquer epidemics, to build a just...
MEDIA