VII All-Ukrainian pilgrimage of UGCC clergy was held to Peremyshliany
Sunday, 13 May 2018, 21:50
On May 9, 2018 VII All-Ukrainian pilgrimage of priests of UGCC clergy was held to Peremyshliany, Lviv region, where blessed holy martyr Omelian Kovch, a patron of priests in UGCC carried out his service.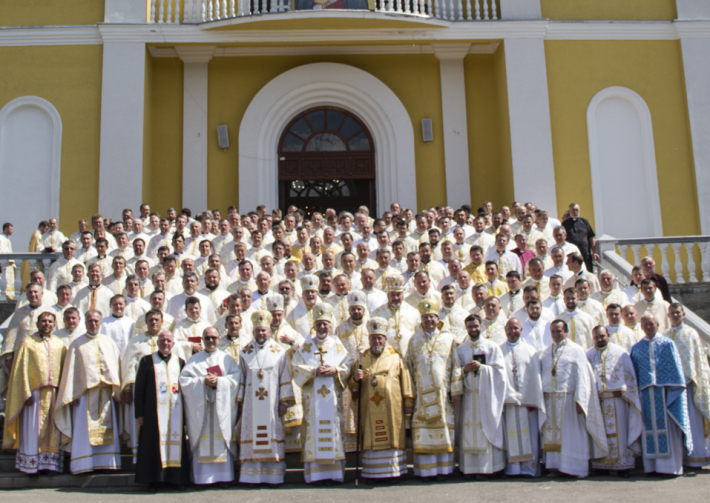 Numerous priests who arrived at the pilgrimage from around Ukraine prayed Moleben to holy martyr Omelian at St. Nicholas Church where during 1922-1943 Fr. Omelian was serving.
Shortly, all the participants walked in a process to the monument of blessed Omelian, where bishop Taras Senkiv, bishop of Stryi spoke to all the present, and after an examination of conscience compiled by Omelian Kovch was read.
Later, in church of St. Volodymyr and blessed holy martyr Omelian a Hierarchial Divine Liturgy was celebrated, headed by bishop Volodymyr Viytyshyn, Archbishop and Metropolitan of Ivano-Frankivsk. Other bishops who co-served him were: bishop Vasyl Semeniuk, Archbishop and Metropolitan of Ternopil and Zboriv, bishop Taras Senkiv, Bishop of Stryi, bishop Vasyl Ivasiuk, Bishop of Kolomyya, bishop Volodymyr Hrutsa, Bishop-Auxiliary of Lviv, bishop Hryhoriy Komar, Bishop-Auxiliary of Drohobych and Sambir Eparchy, bishop Vasyl Tuchapets, Exarch of Kharkiv and bishop Bohdan Manyshyn, Bishop-Auxiliary of Stryi Eparchy. The Divine Liturgy was accompanied by a beautiful singing of seminarians' choir from Kyiv Holy Spirit Seminary.
After reading the Gospel, bishop Volodymyr delivered a homily, reflecting on a sense of priesthood following an example of blessed Omelian Kovch. Priesthood, what faces challenges, set by society.
On April 24, 2009 blessed holy martyr Omelian Kovch was proclaimed a patron of priests of UGCC, and the first All-Ukrainian pilgrimage of clergy to Peremyshliany was conducted in 2012.
Press-Service of Stryi Eparchy
PUBLICATIONS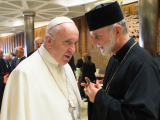 An unprecedented event took place in Rome on July 5-6. Desiring to demonstrate support for the Ukrainian Greek-Catholic Church at a time of...
MEDIA